Caleb Singleton, 4, of Maumee sticks his tongue out while riding the Elephant Go Round at the Wood County Fair. Amusement rides for children, big and small, are a big fair attraction.
THE BLADE/KATIE RAUSCH
Enlarge | Buy This Image
BOWLING GREEN — Nothing like a pony ride to get the grins and giggles going .... at least until "Whoa, stop."
Round and round the ring went the young cowboy, 18-month-old Nathan Bolyard of Whitehouse, who squealed with delight whenever a pony snorted.
When the pony stopped, Nathan frowned. When his mother Terrel Bolyard made it clear Nathan couldn't take a pony home, he whimpered as he was pushed in a stroller, quickly, quickly, away from the pony ring.
PHOTO GALLERY: 2013 Wood County Fair.
Goodness golly, so much to do, so much to see at the 140th annual Wood County Fair, which draws about 100,000 visitors annually. The fair continues through Monday.
In an amusement-ride area, toddlers beamed Tuesday as they bobbed in white elephants. Older children scrambled for rides not as tame. Spin, flip, soar ... scream, yell, shriek.
Inside a cattle barn, Buckeye the steer stood steady for a blow dry with a vacuum cleaner.
It was DARE Day, and youngsters eagerly signed up for a scavenger hunt that required participants to get initials on forms from a vendor, a deputy in uniform, and others on a list.
Skip the texting; this was about talking face-to-face, said Jim Knallay, a Wood County deputy sheriff.
Hailey Barber, 9, who already had initials on her card, was accompanied by her mother, Anna Barber, and her grandmother Carol Barber, all of Perrysburg Township.
"We think this is the best fair around," said Hailey's mother.
What's not to like about a fair featuring food stands with skip-the-diet samplings such as curly fries, elephant ears, and deep-fried Oreos.
At one food stand, her crown glittering, the 2013 Wood County Junior Fair Queen Courtney Thomson, 17, of Bloomdale patiently waited for her order of grilled chicken. She's steering away from fried foods, she said.
Henry Apple, 19, who lives near Bowling Green, was crowned Junior Fair King. Dressed casually except for their royal purple sashes, they tackled official duties, such as handing out ribbons and trophies.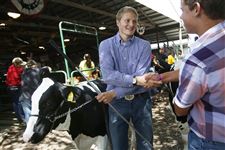 Ross Bockbrader of Stony Ridge is congratulated by another contestant, at right, after placing first in the Wood County Junior Fair Senior Dairy Beef Feeder Showman-ship. The competition was held Tuesday at the county fair-grounds in Bowling Green, where the fair continues through Sunday.
THE BLADE/KATIE RAUSCH
Enlarge | Buy This Image
Several fair-goers said they plan to spend most of the week at the fairgrounds on West Poe Road.
Katelyn Konecny, 12, of Pemberville loves fair week, an end-of-summer salute before school starts. She won a blue ribbon for her homegrown mint. Lydia Sadowski, 12, of Bowling Green said the two friends always spend fair week together, checking out the sights and sampling fair food.
Karl Ott, who lives near Tontogany, stopped by the Wood County Emergency Management Agency booth to pick up a weather radio he won in a drawing.
He attended the fair annually for several decades but when his wife died two years ago, he stopped going. "I've been all alone. I decided it was time again to come to the fair to see and meet people and catch the highlights."
In one building, people crowded around display shelves brimming with unusual and interesting collections, including tacky tie collections, likely related to Father Day's gifts (it's the thought that counts).
In another display area, Megan Pierce of Waterville, a science teacher at Otsego High School, pointed out a blue-ribbon won by an Otsego student. "I love to see what the students do at the fair with their animals, crafts, and hobbies."
Now, back to Buckeye, owned by Addison Richards, 11, of Pemberville. She closely watched her brother Landon, 16, wave the vacuum wand in precision patterns across the steer. Earlier, Buckeye got into a lather with soap and water, followed by special shampoo and conditioner.
"That makes his hair nice and soft," Addison said.
Closer to the fair entry gates, the Fultz Fish Pond was popular with the small fry, eager to win a prize. Some parents poo-poohed the idea of carting around a fish for hours, but a well-placed sign reeled in the reluctant: "We will babysit your fish."
Contact Janet Romaker at: jromaker@theblade.com or 419-724-6006.
Guidelines: Please keep your comments smart and civil. Don't attack other readers personally, and keep your language decent. Comments that violate these standards, or our privacy statement or visitor's agreement, are subject to being removed and commenters are subject to being banned. To post comments, you must be a registered user on toledoblade.com. To find out more, please visit the FAQ.