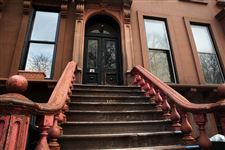 The home stands in the Fort Greene neighborhood of Brooklyn where the director and artist Spike Lee once lived.
Getty Images Enlarge
NEW YORK — In a rant that quickly went viral, film director Spike Lee disparaged the gentrification of historically black New York City neighborhoods and reignited an age-old debate over the merits of economic change.
Lee, who grew up in the Brooklyn neighborhood of Fort Greene, made the comments during a Black History Month speech at the Pratt Institute in that borough this week. No stranger to making incendiary remarks about race and society, Lee said gentrification had little regard for people who "have a culture that's been laid down for generations."
"So, why did it take this great influx of white people to get the schools better? Why's there more police protection in BedStuy and Harlem now?" he said Tuesday, using local shorthand for Brooklyn's Bedford-Stuyvesant neighborhood. "Why's the garbage getting picked up more regularly? We've been here."
Lee, who moved out of Brooklyn years ago, recently listed his Upper East Side townhouse for $32 million.
The rant, which quickly went viral, didn't really bother Catherine Kunicki, 60, a longtime resident of Fort Greene who used to live down the block from Lee's family. She recalled seeing the director standing in a local delicatessen where she would get coffee when he was researching his classic film Do the Right Thing, which takes place in Brooklyn.
"He's right," she said. "He's just angry."
Others were upset by Lee's comments. Robert Perris, district manager for Fort Greene's local community board, refused to discuss Lee's remarks, which he described as "hate language."
"It sounded pretty hostile to me. When your sprinkle your conversation with that many expletives, this is not a critical discourse," Perris said. "This is spewing hate."
Guidelines: Please keep your comments smart and civil. Don't attack other readers personally, and keep your language decent. Comments that violate these standards, or our privacy statement or visitor's agreement, are subject to being removed and commenters are subject to being banned. To post comments, you must be a registered user on toledoblade.com. To find out more, please visit the FAQ.