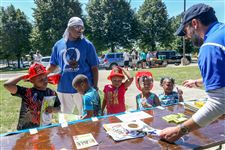 THE BLADE/KATIE RAUSCH
Enlarge | Buy This Image
Miles Alexander, Sr., watches his children, from left, Ke'Marcus, 7, Miles, Jr., 5, Mylaja, 5, Relonna, 4, and Kylia, 3, after a fatherhood walk. Mr. Alexander said he had taken the kids to the store Saturday morning when he happened upon about 100 people marching in support of fathers being active in their children's lives. The fourth annual walk sponsored by RESTORE Inc. began and ended at Central Catholic High School.