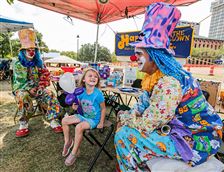 Nevaeh Cooper, 4, of Northwood, center, thanks Happy the Clown (Matthew Onweller of Swanton), right, for her balloon princess as Laffy the Clown (Chase Tressler of Swanton) watches.
THE BLADE/JETTA FRASER
Enlarge | Buy This Image
The sounds of bagpipes and fiddles filled Promenade Park on Saturday afternoon in honor of the 24th annual Toledo Hibernian Irish Festival.
The festival, put on by the Ancient Order of Hibernians, took place from 4 p.m. to midnight Friday and from noon to midnight Saturday. This was the first year the festival has been held at Promenade Park. Previously, the event was held on Huron Street near the Blarney Irish Pub.
PHOTO GALLERY: Click here to view slideshow.
The new venue is meant to accommodate more visitors.
"We hope to keep getting bigger. As this gets bigger, we get bigger," festival chairman Tom McCabe said.
Mr. McCabe estimated that 600 to 700 people attended Friday night and said he hoped for even more to come Saturday.
He said it is a great way to share Irish culture and to show how much it has contributed to culture in this country.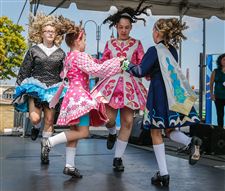 From left, Mary Catherine Scarlet, 16, of Maumee, Chianna Kujawa, 9, of Toledo, Jessica Reighard, 14, of Perrysburg, and Lindsey Lazor, 9, of Perrysburg, perform as part of Molly's Irish Dancers and the Perrysburg Dance Academy.
THE BLADE/JETTA FRASER
Enlarge | Buy This Image
"You can see Irish music, dance, literature, and even politics everywhere," Mr. McCabe said.
For those who attend, there were a number of exciting events.
Maureen Gale, Tom's co-chairman and the club's Hibernian of the Year, said, "We are selling tickets for either a trip for two to Ireland or a $3,000 cash prize. The winner chooses which." She said the raffle drawing has been a part of the festival since its beginning.
Several vendors lined the top of the park. Danita Creations had a booth where owners John Rusin and his mother, Ita Rusin, sold handmade rosaries and angel earrings. Life's a Stitch owner Marjorie Corrow had a booth where she was selling her line of Shamrock Chic custom-embroidered clothing. Ms. Corrow said she travels to Irish festivals all over the country as a vendor.
This rather eclectic festival also offered a variety of things not necessarily associated with the Irish. The food offerings included Chick-fil-A to funnel cakes and Rosie's Rolling Chef food truck. There was even a pole vault competition with about 25 vaulters competing at the high school, collegiate, and open levels, Mr. McCabe said.
Favorites of the festival, however, were the Irish music and dancing. Ms. Gale said the music and dancing are the most traditionally Irish aspects of the festival, and the club works to "keep it that way."
Irish dance groups Ardan Dancers and Molly Dancers performed for the festival. Irish bands included Extra Stout, Thirsty Houligans, Pauly & Peggy, and Dulahan.
The Harsinje family, residents of Ottawa County who attended the festival for their third year, are passionate about its music. Ty, 8, said he'd been practicing his Irish dancing, while his mother, Jill, said they were hoping to check out all of the dances.
"The music is great because you get to dance and it's good exercise so it's healthy, too," Ty added.
Contact Kathleen Ashcraft at: kashcraft@theblade.com or 419-724-6050.
Guidelines: Please keep your comments smart and civil. Don't attack other readers personally, and keep your language decent. Comments that violate these standards, or our privacy statement or visitor's agreement, are subject to being removed and commenters are subject to being banned. To post comments, you must be a registered user on toledoblade.com. To find out more, please visit the FAQ.