Jim Heller, now a member of the radio broadcasting teams for University of Toledo football and women's basketball, was new to town in the late 1990s, having moved from Findlay, and was mowing the grass at his house in the west end for the first time.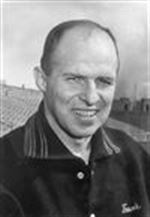 Frank Lauterbur had a record of 48-32-2 in eight seasons as UT football coach.
The Blade
Enlarge | Buy This Image
An older couple out for some fresh air and sun on a balmy day — the man pushing his wife's wheelchair — made their third loop of the neighborhood before stopping.
"I was wearing a Findlay football T-shirt, sweating like all get out," said Heller, who is tall and slender and will admit to not being physically imposing. "This old guy stops, pokes at my shirt, and says, 'You don't look like much. What do you know about football?' "
Heller responded that in reality he knew very little.
"And just what do YOU know about football?" Heller asked in return.
"Not a damn thing," the man said, laughing. "Hi, I'm Frank Lauterbur."
Heller certainly knew the name, but not the face, which put him in the minority in these parts at about any point in the last half century.
"You go back to the 1960s and ever since, and everybody in the country knew JFK and LBJ and MLK," said Dan Simrell, once a quarterback under Lauterbur and later one of his successors as UT's head coach. "In Toledo, though, the initials everybody knew were FXL."
When Frank Xavier Lauterbur, with 23 straight wins and three Mid-American Conference titles in four years under his belt, left Toledo after the 1970 season to become coach at Iowa, his successor, Jack Murphy, was among the last to say good-bye.
Last Tuesday, Lauterbur's close friend, Jack Murphy, stopped by Parkcliffe Alzheimers Community in time to say good-bye again. FXL died Wednesday at age 88.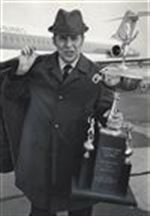 Frank Lauterbur holds the trophy after the Rockets won the 1970 Tangerine Bowl, his final game as UT coach.
The Blade
Enlarge | Buy This Image
"The last few times I visited you could tell Frank was slipping," Murphy said. "When you realize he's going to leave us you reflect on everything. So many of the memories are football-related, sure, and I enjoyed working and coaching with him. But he was a fun guy, too. He was a good person, easy to enjoy. We fished a lot. Bottom line, he was my good friend.
"But to a lot of people he was a hard-nosed coach who pushed hard. He was UT football. He brought a lot of success, and I think the university is still benefiting from it."
That university, many of its football legends and nonlegends alike, and much of the community will gather later today at Walker Funeral Home and Monday morning at Little Flower Church. Yes, FXL will have a couple more standing room-only crowds, just like the old days at the Glass Bowl.
Culture change
The eight head coaches who preceded Lauterbur at UT were a combined 57-79-4, and the Rockets had won but 17 league games in their first 11 seasons in the MAC. Not much changed right away — Toledo won 11 games in his first four years — and then everything changed.
Simrell was quarterback for Lauterbur's first two teams that went 2-7 and 2-8.
"We didn't win, but we were proud to be a part of the start as he taught the people in the program what it would take to win," Simrell said. "He was a tough son of a gun, but the guys who stuck it out realized it was tough love. He was all about discipline, loyalty, responsibility, and commitment. So much of my life and career are built around lessons from Frank that I probably didn't realize I was learning at the time.
"I've said often that the best class I ever took was from 3-5 every day in front of the Glass Bowl. If Frank Lauterbur was the best professor I ever had, well, either that doesn't say much about my two degrees or it says volumes about Frank."
In the coach's final four seasons, UT went 37-5-1. The year after FXL's departure Murphy put the finishing touches on a third straight unbeaten season and the 35-0 win streak.
A little luck
The Rockets won their first MAC championship with a 9-1 season in 1967. Two monumental things happened during the following offseason, and Lauterbur — who admitted it was sometimes better to be lucky than good — told both stories often.
He was asked to speak at a postseason banquet in Portsmouth, Ohio, where a priest told him about a quarterback at Notre Dame High School who was undefeated for his career. A couple weeks later, FXL was playing handball with an assistant coach when a huge, muscular body was suddenly standing in the doorway of the court. The guy wanted to come out for football. Mel Long, a Vietnam veteran and war hero, became indisputably the best defensive lineman in UT history, if not in MAC history.
The quarterback, of course, was Chuck Ealey. Freshmen were ineligible then, so neither he nor Long could play in 1968. But they started in '69, played three years, and never tasted defeat.
There were some close calls during that streak, and Ealey recalls, "I never once saw him panicky. I don't recall him ever being upset or frustrated during a game, no matter how close. Frank was a tough guy. Hey, he was a Marine, so he was always disciplined. He was always calm, always in charge, always kept us relaxed, and always had faith."
Fear and respect
Tom Duncan, a defensive back and kicker, was around for the first 23 games of the 35-0 streak and was around at the end, too. He and Heller, the neighbor, were among a group of former players and friends who made sure FXL was out and about after his wife, Mary, passed away in 2006.
"I was a captain my senior year, and during the preseason he called me in when we had four or five double sessions left," Duncan recalled. "He said, 'We've been working hard, and we're right where we need to be, and I don't want injuries, so we're done with doubles. But don't tell anybody.'
"Later that day we had a team meeting and he yelled, 'You guys disgust me. You're terrible. I'm so fed up I'm canceling the rest of doubles.' I bit my tongue. The next day's practice, guys are flying around and working like crazy. He was the ultimate motivator. We feared him and respected him.
"Look, football is tough. Life is tough, so he made us tough. A lot of very successful, very accomplished people came off those teams and we owe that to him. And we know it. It's amazing the number of guys, even back from his days as an assistant at Army, who kept in touch."
Heller kept FXL busy during the University of Findlay's march to the 2009 national championship in men's basketball.
"The games were all sellouts, but I'd sneak him in the back door and up to the president's box," Heller said. "People found out who he was and, my God, it was like Elvis was in the building."
No surprise. Frank X. Lauterbur was a rock star in Toledo for 50 years.
Contact Blade sports columnist Dave Hackenberg at: dhack@theblade.com or 419-724-6398.
Guidelines: Please keep your comments smart and civil. Don't attack other readers personally, and keep your language decent. Comments that violate these standards, or our privacy statement or visitor's agreement, are subject to being removed and commenters are subject to being banned. To post comments, you must be a registered user on toledoblade.com. To find out more, please visit the FAQ.