COMMENTARY
The giant, gentle life of Howard Baker
6/29/2014
Shribman
Howard Baker, Jr., who died last week at 88, will be remembered in tributes for many things: The way he broke the century-long Democratic hold on Tennessee. His uncommonly decent reign as Senate majority leader. His wise, calm stewardship of the last years of Ronald Reagan's presidency as White House chief of staff.
But Mr. Baker will be remembered for generations for one thing: He asked one of the most important questions in American history.
It was a question so basic and yet so trenchant that it ferreted out the truth at the height of the Watergate tensions. And it was so piercing in its clarity that it become a cliché:
What did the president know, and when did he know it?
What the president (Richard Nixon) knew (loads, it turned out) and when he knew it (earlier than he let on) were the issues at the center of the gravest constitutional crisis in modern American history. By asking that question, Mr. Baker almost surely answered it as well.
The question in effect ended the Nixon presidency, coming as it did from a loyal Republican — he was the top GOP figure on the Senate Watergate committee.
Few lawmakers of his generation or any other will receive the tributes that poured in for Mr. Baker.
He was serious-minded, to be sure. But he also was companionable. Tommy Griscom, who worked as perhaps Mr. Baker's closest confidant in the Senate and White House, recalled that his mentor never told him what to do beyond a few reliable words of guidance: Do the right thing.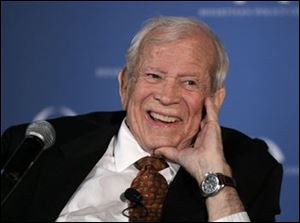 Baker
Mr. Baker was on the right side of the political spectrum, but not too much and not so fervently that he did not accumulate abiding friendships among Democrats. And yet he was a partisan of a pathbreaking sort. The son of a Republican congressman in the heart of East Tennessee — the part of the state that opposed secession in 1861 — Mr. Baker was the first Republican since Reconstruction to win popular election in a statewide race.
His election to the Senate ended statewide domination of a particularly and peculiarly powerful strain of Democratic politician — Andrew Jackson in the early 19th century, but also 20th century giants such as Cordell Hull (later secretary of state), and Albert Gore, Sr. (senator and father of a vice president).
Mr. Baker's triumph spawned a new breed of Tennessee Republicans. Among them is Lamar Alexander, a former governor and education secretary and a sitting senator. Mr. Baker's triumph transformed Tennessee into a two-party state.
Mr. Baker was preparing for a second presidential campaign in 1988 — his first one, in 1980, was snuffed out by George H.W. Bush in Iowa and Ronald Reagan in New Hampshire. But his plans were derailed when Mr. Reagan asked him to succeed the embattled Donald Regan as White House chief of staff. Mr. Baker served for 16 difficult months while the Reagan administration struggled with the Iran-contra scandal.
Mr. Baker spawned unusual loyalty among his colleagues, aides, and associates. "There was a gentleness to him that was remarkable for people who operated at his level," remembered Thomas Rath, who met Mr. Baker while the senator stumped in 1980 for Senate candidate Warren Rudman. "There was a twinkle in his eyes always."
Mr. Griscom was presiding over a meeting of the Chattanooga Rotary Club when he received a message from Cissy Baker, the senator's daughter, of his mentor's demise. "He was like a second father to me," Mr. Griscom said. "The Howard Baker you saw in public was the Howard Baker we all saw in private."
No one who was in the Senate gallery when Mr. Baker announced his retirement from the chamber in 1984 will forget his personal reminiscence. It was a speech that was sorrowful and sentimental.
The Senate majority leader recalled that he had come to the chamber young, idealistic, and rich. Then he departed, as none of those things.
David Shribman is executive editor of the Pittsburgh Post-Gazette.