The great Toledo baseball mystery has been solved.
Hall of Famer Kirby Puckett indeed wore No. 28 during his time with the Mud Hens, a reader armed with proof confirmed Friday.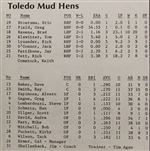 The Toledo Mud Hens roster card from an April 29, 1984 game against the Maine Guides at the Lucas County Recreation Center.
With the Hens planning to hold a Puckett bobblehead night this season, the search for Puckett's number — as detailed in Friday's edition of The Blade — touched off an exhaustive yet inconclusive quest that entangled team officials, historians, and fans.
But for Maumee resident Guy Lammers, the answer proved just a trip to the basement away. Upon reading our column, he found the cardboard box labeled, "Programs and Scorecards," and unearthed the evidence.
Inside were rosters from Puckett's cameo here in 1984, along with scorebooks kept by his wife, Linda Marckel. Both verified our numeric suspicions.
"My wife is very organized, and she doesn't throw away anything," said Lammers, a 59-year-old research manager for a software company. "Linda knew where the boxes were and went right to it. Didn't take longer than 10 minutes."
Turns out, Lammers and his wife were regulars at Lucas County Stadium in Maumee, attending about 20 games per year. Two of them featured Puckett, who played 21 games for the Hens before setting off a Cooperstown-bound career with the Minnesota Twins.
Lammers, who later spent time as an official scorer for the team, remembers the 5-foot-8 center fielder well.
"He was one of our favorite players," he said, "because he was short and just a fire plug all over the field."
Lammers said he plans to alert the Hens shortly. The team still is offering four tickets to the first person who provides proof of the answer.
Contact David Briggs at: dbriggs@theblade.com, 419-724-6084, or on Twitter @DBriggsBlade.
Guidelines: Please keep your comments smart and civil. Don't attack other readers personally, and keep your language decent. Comments that violate these standards, or our privacy statement or visitor's agreement, are subject to being removed and commenters are subject to being banned. To post comments, you must be a registered user on toledoblade.com. To find out more, please visit the FAQ.