Ohio State football pulling away from Harbaugh, Michigan
2/6/2018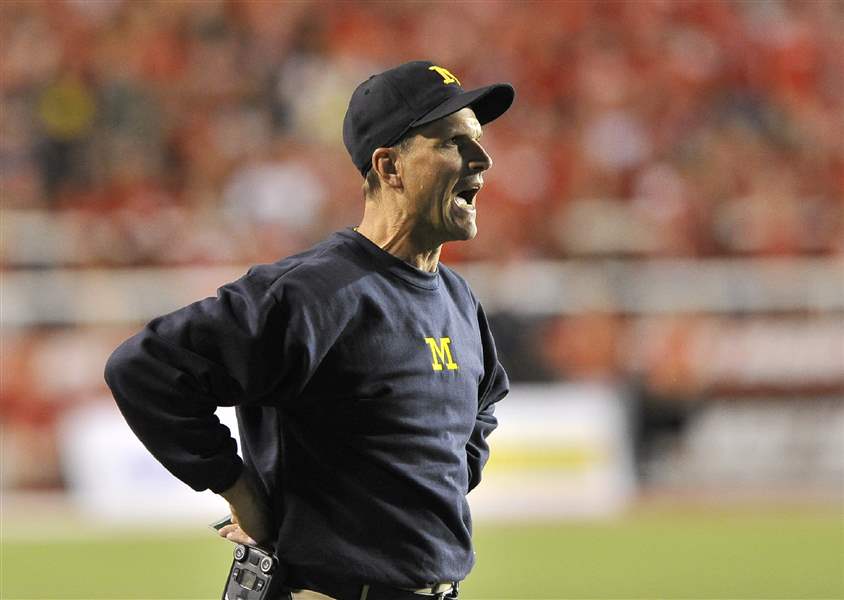 If Jim Harbaugh plans to win a national title, he'll need a lot more than recruiting classes comprised mostly of three-stars.
Getty Images
It is the most fundamental tenet of major college football: A Jimmy can't win big alone.
He needs a lot of Joes, too.
Which is bad news for Jim Joseph Harbaugh.
If you felt the earth shiver today, it was the gap between the region's tectonic football plates — Ohio State and Michigan — growing wider.
While Urban Meyer and the Buckeyes sped into signing day in the pole position nationally, Harbaugh reeled in a who's who of ... who?
RELATED: Michigan recruiting takes a step back | OSU on edge of No. 1 class
The Michigan man is now the Michelin man, so many three-star ratings are there in a 2018 class ranked No. 17 in the country by both major recruiting services, Rivals.com and 247Sports.com.
That might not seem alarming, and, relatively, it is not.
But standards are not created equal.
If the Wolverines have designs on becoming a championship program — and Harbaugh's $7 million-per-year salary suggests they do — history suggests keep dreaming.
For as much as we all love the sport's any-given-Saturday whims, the truth is only a few schools have real access to its gated mountaintop community.
Ohio State is one of them. Same with Alabama, Clemson, and now Georgia. Michigan? We'll see.
You can win a lot of games without winning signing day. See: Michigan State, Wisconsin, et al. But to compete for and win a national title, there is no way around it: You have to stack one blue-chip class on top of the other with no breaks in between.
It is popular to say stars don't matter. You could build a monster of an NFL team with players who were unheralded prospects, be they three-stars (Kareem Hunt, Matt Ryan, Von Miller), two-stars (J.J. Watt, Russell Wilson, Khalil Mack, Le'Veon Bell), or no-stars (Antonio Brown, Aaron Rodgers, Josh Norman).
Maybe a Michigan class filled with on-paper reaches will follow in that line. Coaching and player development matters, too.
But those recruits will be the exception. It always cracks me up to hear fans rag on recruiting rankings. Look at last year's NFL draft. Per the ratings of 247Sports, nine of the top 20 picks were former five-star recruits — including top overall selection Myles Garrett — while nine were four stars.
It's not rocket science: The select few teams who compete for everything are the ones who monopolize the most coveted Jimmys and Joes. Since 2011, every national champion — Alabama, Florida State, OSU, and Clemson — won the big trophy off a stretch of four consecutive top-15 classes, with most of them perched in the top five.
The Wolverines appeared on the same trajectory, staging celebrity-studded celebrations of its top-five classes the past two years. Perhaps they still are. Michigan is loaded with talent, and as long as transfer quarterback Shea Patterson is eligible, a Big Ten title should be in reach this season.
Yet in its pursuit of Ohio State — and the best of the rest — the latest trend line is troubling, a disappointing year on the field slamming the brakes on its offseason showman's recruiting momentum. There is no Signing of the Stars event this time, its novelty faded, along with, for the moment, Harbaugh's own star.
The anticipated sequel to the Ten-Year War suddenly feels more distant, one rival landing the league's top-rated class for the eighth consecutive year, the other in retreat. As of Tuesday, Ohio State has nabbed two five-stars and 19 four-stars, including St. John's Jesuit linebacker Dallas Gant. Michigan has no five-stars and eight four-stars.
If Harbaugh strives to be better than very good, this class needs to be the great aberration.
Contact David Briggs at: dbriggs@theblade.com, 419-724-6084, or on Twitter @DBriggsBlade.