Long ball by long ball, his road from Toledo to Detroit shortens.
Christin Stewart is the hottest hitter on the hottest team in baseball.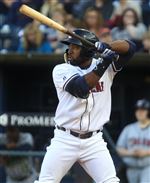 Christin Stewart is hitting .299 with 29 RBIs for the first place Mud Hens.
Blade/Kurt Steiss Enlarge
And, yes, before we go any further, we did say the hottest team in baseball. With the Mud Hens' 5-1 win Sunday against Gwinnett at Fifth Third Field, the hometown nine — victors of 12 of their past 14 and 28-13 overall — have the second-best record in all the major and minor leagues, surpassed only by the Yankees.
But back to Stewart. In this zero-to-60 spring for a franchise that has eight consecutive losing seasons, the 24-year-old slugger is enjoying a quick change of his own.
Shedding his rap as an all-or nothing bomber with two left cleats in the outfield — think Steven Moya — Stewart has displayed a common glove and an uncommon bat. He not only has a International League-leading 11 homers but is batting .299 with a monster .993 OPS.
RELATED: A closer look at Christin Stewart's hot start
It's the kind of start that begs — no, screams — the question: Why is he not in Detroit?
So far, the Tigers have smartly resisted the temptation.
Sure, it would be compelling to watch Stewart send balls into orbit in Motown, as he did here one night, depositing a homer atop the four-story-high rooftop patio beyond The Roost. But he has come too far in his first season in Toledo to rush his development now.
Before this year, he was trailed by one backhanded question: Could his one excellent tool (power) offset his lack of any others? Stewart, a first-round draft selection in 2015, swatted 30 homers in his first full pro season, then 28 more at Double-A Erie last year. But he averaged more than a strikeout per game and had brick feet in left field.
In Toledo he has become a beacon of the truth we often forget in our rush to cast aside every prospect who isn't Bryce Harper or Francisco Lindor: Players improve. A good guy and a great worker, Stewart has become a more selective hitter — he has 29 strikeouts in 40 games — and willed himself into a non-liability in the field.
"Because his offensive numbers have been so eye-popping during his career, the industry tends to pick on the things that aren't on the same level," Hens manager Doug Mientkiewicz said. "If they were on the same level, defensively compared to offensively, you'd be talking about the [Mike] Trouts and [Bryce] Harpers of the world. He's been accurate, his routes have been good. He's been nothing short of a big-league pro."
Soon enough, Stewart will be a big-league pro too, his left-handed power projecting as a key piece in the Tigers' long rebuild. His bosses just want to make sure he is ready, rather than promoting him before his time, and as we've seen with others, beginning a shuttle service up and down I-75. "It's not a matter of if, it's when," Mientkiewicz said. "We're trying to dot every 'i,' so when he goes to Detroit, he stays there."
If Stewart's big smile in the bass-thumping winning clubhouse Sunday is any indication, he isn't sweating it. He prioritizes what he can control. "Which is attitude," Stewart said, "and effort."
Here's betting he's worth the wait.
Contact David Briggs at: dbriggs@theblade.com, 419-724-6084, or on Twitter @DBriggsBlade.
Guidelines: Please keep your comments smart and civil. Don't attack other readers personally, and keep your language decent. Comments that violate these standards, or our privacy statement or visitor's agreement, are subject to being removed and commenters are subject to being banned. To post comments, you must be a registered user on toledoblade.com. To find out more, please visit the FAQ.