Juli Inkster visits Inverness to promote Solheim Cup
8/20/2018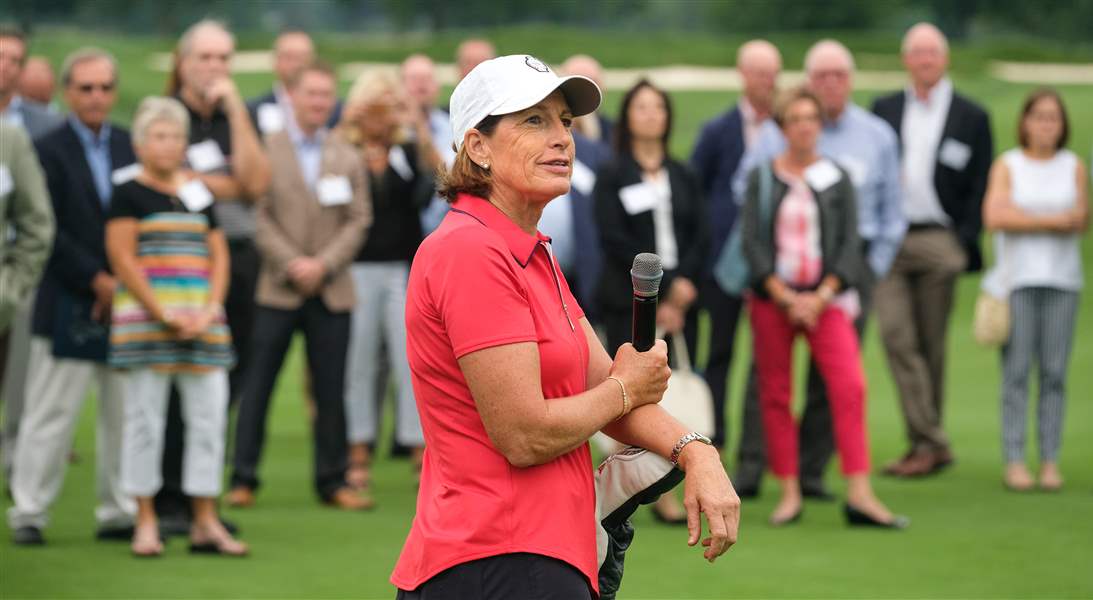 2019 U.S. Solheim Cup captain Juli Inkster promotes the 2021 version of the event coming to Toledo Monday at the Inverness Club.
THE BLADE/JEREMY WADSWORTH
Buy This Image
Juli Inkster knows something about big golf events.
Name a tournament and she's won it — including seven major championships — banking more than $14 million along the way.
But ask the 58-year-old Hall of Famer to pick a favorite, and there is no hesitation. It's the star-spangled one she played and now coaches pro bono every two years.
"No doubt," Inkster said Monday at Inverness Club. "I live for the Solheim Cup."
Inkster and a team of LPGA officials were in town for what was billed as Solheim Cup Signing Day — a promotional event for the biennial tournament that will storm through town in 2021.
"It's the greatest golf you can watch ... live ... ever," Inkster said. "I know the people in Toledo will come out to support it, and it's going to be a lot of fun."
WATCH: Juli Inkster on the Solheim Cup
As a quick refresher, the Solheim Cup — the biggest international showcase in women's golf — is a Ryder Cup-style match-play event squaring all-star teams of American and European players.
The stakes are bigger than prize money, of which the players receive none. "You're playing for the red, white, and blue," Inkster said, "and it brings out your best."
Inkster played on nine Solheim Cup teams and has captained the past two, leading the U.S. to victories in Germany in 2015 and Des Moines, Iowa, last year. She also will captain the team next year in Scotland, and although non-committal about shepherding the Americans in Toledo, she said she can't wait for 2021.
She assured a crowd of Inverness club members, sponsors, and community leaders the city is in for a show unlike any other.
If golf is the most genteel of sports, scratch all that for three days. The LPGA anticipates crowds upward of 150,000 roaring, flag-waving fans — including 15,000 or so from Europe — to cram the iconic Dorr Street grounds during the week. Longtime Marathon Classic director Judd Silverman, who led the Toledo bid, previously estimated the economic impact at around $50 million.
"It's more like a soccer match," said Inkster, now a golf analyst for Fox. "There will be music blasting, singing. It's a big party."
She then hit a ceremonial tee shot from party central, also known as the massive combined tee complex for Nos. 1 and 10. During the tournament, golfers will use the same tee for both holes, so as to allow for a raucous stadium entrance. Golfers will take their first swings tightly surrounded on three sides by double-decked hospitality suites and 2,500 bleacher seats.
The Solheim Cup traditionally takes place in late August or September. The LPGA's regular local tour stop — the Marathon Classic at Highland Meadows — also will be played in 2021.
Contact David Briggs at dbriggs@theblade.com, 419-724-6084, or on Twitter @DBriggsBlade.