OSU FOOTBALL PREVIEW
Turmoil or not, Ohio State will win the Big Ten
8/28/2018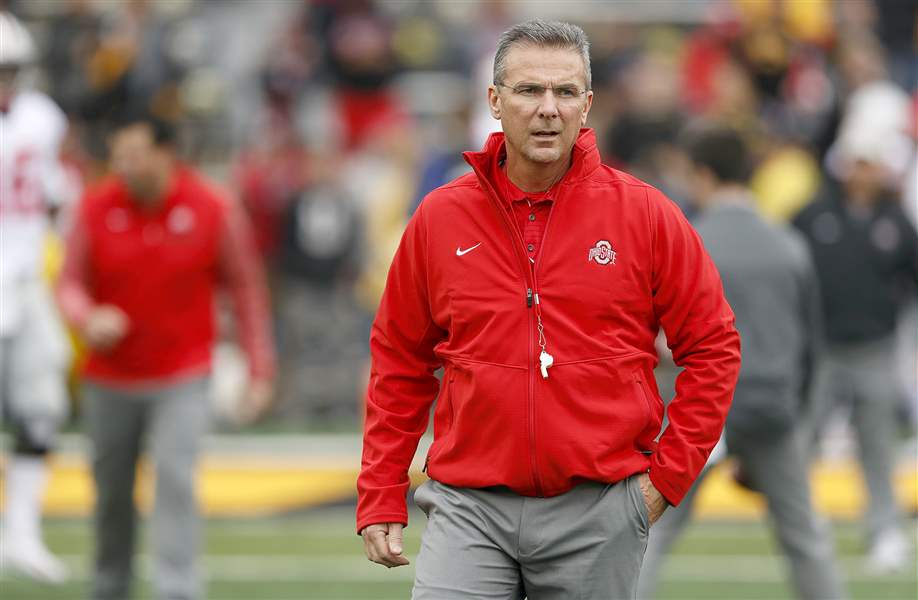 Ohio State coach Urban Meyer will be suspended for the first three games this season.
ASSOCIATED PRESS
COLUMBUS — Seven things I think about the 2018 Ohio State football team, one for every unpleasant email-per-minute we received from Buckeyes fans last week ...
■ 1. There are two schools of thought on Urban Meyer's preseason exile and three-game suspension.
Some say, meh, the Buckeyes are so good it wouldn't matter if John Q. Smith — or John L. — was coaching them.
"Talent is talent," Austin American-Statesman columnist Kirk Bohls wrote in an email among AP voters. "As great a coach as Urban Meyer is, I think a lot of good coaches could take the Buckeyes to this year's College Football Playoff level."
Others will wait and see. Me, I think, if we're just talking football, Ohio State is fine.
Yes, the uncertainty no doubt took its toll. These are 18- to 22-year-olds who came here to play for Meyer. But as long as Meyer's heart remains in it — and the drip-drip-drip to come reveals no smoking guns — this does not feel like a program in disarray.
Self-inflicted turmoil or not, I'll take my chances with the team that has the best players and the best staff. Ohio State's top-to-bottom talent is not just in a class of its own in the Big Ten. It's in a different school. In the past five recruiting classes, the Buckeyes have signed more top-100 prospects (47) than the rest of the league combined (34), according to 247Sports.com.
Spare your concern for a more worthy cause.
READ MORE: Stability should keep OSU on track in 2018
■ 2. Dwayne Haskins is not necessarily better than J.T. Barrett, a winner, leader, and tough-yards-mudder with few peers. But the offense will be.
For as much as Meyer rode Barrett, his inability to stretch the defense vertically — think Cardale Jones in the 2014 playoff — severely limited the Buckeyes. How many times did Barrett deliver a pass to Piscataway ... during a game at Purdue? Last year, he completed 34.5 percent of his deep throws — passes of at least 20 yards — according to Pro Football Focus, ranking 103rd nationally.
Now, the entire field is open for use. With a big, on-point arm, Haskins offers a needed new look — and gives an Ohio State offense loaded with speed the best chance to approach its ceiling.
■ 3. No disrespect to Jonathan Taylor, but J.K. Dobbins is the best running back in the Big Ten.
As a true freshman last year, Dobbins averaged 7.2 yards per rush — putting the rubber-peeling Texan well ahead of the Wisconsin star and behind only Stanford's Bryce Love among power-conference backs nationally. All told, he rushed for 1,403 yards despite getting more than 15 carries in just three games.
While Dobbins will share duties with Mike Weber, you wonder what he can do with a couple more touches and a quarterback who stretches the field, preventing extra defenders from squeezing into the box. Not to keep idealizing the 2014 postseason, but that's the model Ohio State wants to Xerox. It's no coincidence Ezekiel Elliott's sublime stretch coincided with Jones beating teams over the top.
■ 4. The biggest addition for the receivers is the subtraction of fired assistant Zach Smith.
If Smith was a good recruiter, he was a low-rent teacher, the ringleader of the position group Meyer memorably labeled a "clown show" in 2012. The receivers were the team's biggest weakness the past three years. My bet is a deep but unpolished troupe that returns its top seven performers takes a noticeable step forward under interim assistant Brian Hartline.
■ 5. Clemson has the best D-line in the country, but Ohio State's is a close second, led by the best Bosa yet.
I think back to the first time I talked to John Bosa, a former first-round pick by the Miami Dolphins. It was 2013, and his oldest son, Joey, then a freshman defensive end for the Buckeyes, already was cleaving through the Big Ten. He would become a two-time All-American, the third pick in the 2016 draft, and a Pro Bowler for the Chargers.
A monster in cleats.
But even then, all we kept hearing was: "You think Joey is something," said Rocco Casullo, his high school coach at St. Thomas Aquinas in Fort Lauderdale, Fla., "you should see Nick."
Nick was Joey's 15-year-old kid brother. "Compared to Joey at this stage," John told me, "Nick is probably a little bit further along."
Yeah, uh-huh ... oh. The Big Ten is now seeing what he meant.
Nick, a junior, is the projected top pick in the 2019 draft and the Buckeyes' most feared rusher since ... Mike Vrabel? Add in sophomore star Chase Young on the other end and overflow depth up the middle, and the Buckeyes' national-best 114 tackles for a loss last season — including a league-leading 45 sacks — could be a starting point this year.
■ 6. Expect to get an early look at Dallas Gant.
A winter enrollee, the St. John's Jesuit grad impressed in camp — he was the second freshman to have his baptismal black stripe removed — and arrives at a position of need, with the linebackers looming as the Buckeyes' biggest concern. Don't be surprised to see Gant crack the two-deep in the coming weeks.
■ 7. The Buckeyes will win the Big Ten.
As much as I wonder about the uncertainty surrounding Meyer, a program that is 67-5 in the past six regular seasons is too talented to bet against. The prediction here is Ohio State splits its games at Michigan State and Penn State but goes 11-1, then returns to the playoff with a win against Wisconsin in the league title game.
Contact David Briggs at: dbriggs@theblade.com, 419-724-6084, or on Twitter @DBriggsBlade.