How a Toledo executive helped save the Notre Dame-Michigan rivalry
8/30/2018
Michigan and Notre Dame last met in 2014, but a Toledo businessman and his BGSU connections have helped bring the series back to life this year.
ASSOCIATED PRESS
From the lips of college football to God's ears, the call arrived to a Toledo office park in the spring of 2016.
Notre Dame and Michigan were working to renew their football rivalry, and Irish coach Brian Kelly had a favor to ask his good friend.
"I've got a challenge for you," Kelly told Mike Wilcox, the local financial adviser who knows everybody who is somebody in college athletics. "Don't feel any pressure, but ... "
Only the fate of the free football world depended on it.
"If you can't get this done, we can't schedule Michigan."
Turns out, efforts to broker a home-and-home series between the powers for as soon as 2018 and 2019 were easier proposed than done. Mountains had to be moved, wheels greased. Among the major hurdles was Notre Dame moving back a 2019 game at Georgia Tech, which, to make a complex puzzle fit, required finding a third party able on short notice to make trips to Tech and Notre Dame.
Wilcox was down to help.
Under one condition.
"What's in it for Bowling Green?" said Wilcox, a BG alum who is a major university booster and former board chair.
Well, how did its calendar look?
As long as the Falcons were free to travel to Atlanta in 2018, Wilcox remembers the coach replying, "We'll give you a game in South Bend in 2019."
"That's great," he said, before pushing his luck more than the kid who asks Santa for a rocket ship, "but we'll have to have a home-and-home."
Silence.
Hey, it never hurts to ask.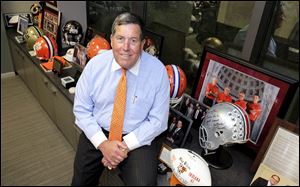 Mike Wilcox sits with sports memorabilia in his office in this 2016 file photo.
Alas, Kelly playfully told Wilcox to shove it, but they had a tentative deal. Wilcox took the offer to Bowling Green and the Mid-American Conference office and together they made it happen. BG added Georgia Tech and the Irish to its schedules, thus securing the university its own place on a big, lucrative national stage and clearing the decks for the return of a bigger one — the 131-year-old feud between Notre Dame and Michigan that resumes Saturday.
Everybody came out a winner.
The machinations proved among the final pieces of a jigsaw that began to come together with Jim Harbaugh's hire at Michigan in December, 2014.
It was earlier that year, of course, that the series reached its acrimonious end. Notre Dame played the "It's not you, it's me" card, citing the need to tidy up its future schedules — suddenly congested by a new partnership with the ACC — as the reason the schools should see other people. Then-Michigan coach Brady Hoke branded the Irish as "chickens." Kelly responded that Michigan wasn't one of Notre Dame's "historic, traditional" rivals, anyway.
Fortunately, after everybody got the playground insults out of their system, good sense prevailed.
"Jim reached out to me, and we were both of the same opinion that we wanted to try to get this game back, if we could," Kelly said this week. "Now, there are so many other things, as you know, that make this difficult."
And even harder still on two years' notice. In a world where big-time programs schedule their nonconference games up to a decade in advance, renewing a marquee series on that timetable was like renewing your license in five minutes on a Saturday morning at the DMV. It doesn't happen.
Still, the rivals gave it the college try. Michigan cleared up its schedule, forking over $2 million to void a 2018 and 2019 series against Arkansas, while Notre Dame went to work on theirs.
To make a long story short, the key piece was 2019. With Notre Dame adding a road game against Michigan, it sought to push its Oct. 19 visit to Georgia Tech back a year and add a home game in its place. Tech agreed on the condition the Irish helped it fill a still-open date on its 2018 schedule.
Kelly turned first to Wilcox and Bowling Green, familiarly keeping in mind his roots in the MAC, where he coached at Central Michigan from 2004-06. After Notre Dame for years kept its golden-domed gates closed to the unwashed gridiron masses — Notre Dame first played a MAC team in 2010 (Western Michigan) — Kelly has scheduled games against Miami, Ball State, and Toledo.
"It's a great example of a former MAC coach never forgetting what the MAC did for him," Wilcox said.
With another special opportunity for a MAC school on the table — this time for his school — Wilcox took the package deal to the league office.
"We had to do X and Y to get to Z," said Bob Gennarelli, the top MAC deputy in charge of football scheduling.
Gennarelli worked with Bowling Green — including athletic director Bob Moosbrugger, who started his job mid-July that year — to lock down the dates, which brought forth yet more complications. MAC teams, for instance, are not permitted to schedule nonconference games after the first five weeks of the season. The proposed BG-Notre Dame game on Oct. 5, 2019, was Week 6. But while Gennarelli made no promises, he told BG he thought he could make it work.
After all this, what was one final chess move? By the end of the summer of 2016, BG had deals in place for a $900,000 trip to Georgia Tech this Sept. 29 and a $1.1 million visit to Notre Dame.
A big win for the Falcons.
And, challenge completed, a bigger win for college football.
Contact David Briggs at dbriggs@theblade.com, 419-724-6084, or on Twitter @DBriggsBlade.