MIRRORS OF SPORT
Braylon Edwards' rant invites question: Where is the line?
9/6/2018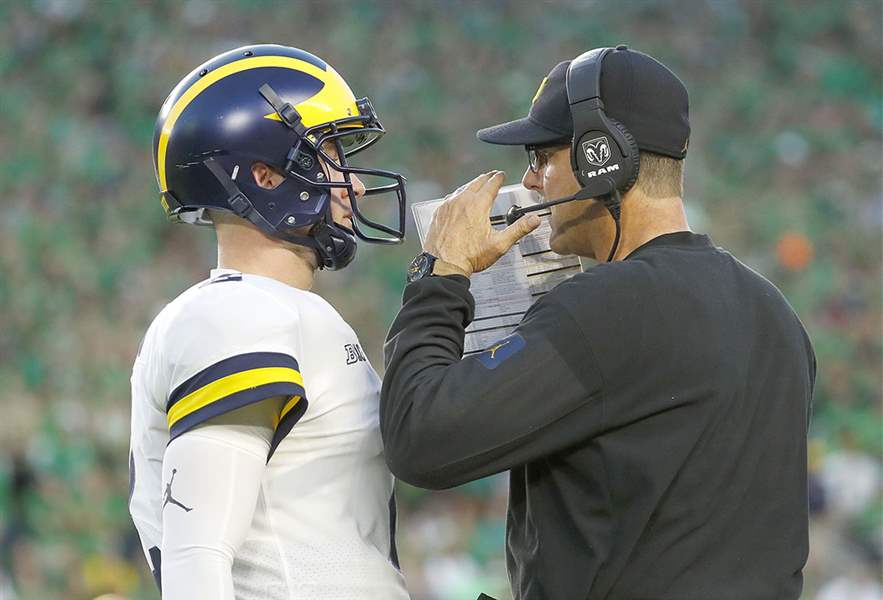 Michigan head coach Jim Harbaugh talks with quarterback Shea Patterson during Saturday's game vs. Notre Dame.
ASSOCIATED PRESS
The receiver has stone hands and a boulder of a mouth...Coach is overrated. Can't beat Ohio State...Offense is so predictable, righter than Fox News...Michigan football is sadly one thing……Trash!
But enough about 2004.
This is about today.
By now, you've probably heard about Braylon Edwards' scorched-turf takedown of his alma mater after Michigan's opening dud at Notre Dame, in which he singled out one player as "weak," another as "scared," and branded the program "trash."
The profane tweet was interesting for a few reasons, including its lack of professionalism — Edwards is a now-suspended analyst for the Big Ten Network — and self-awareness.
Uh, Braylon, you're 35, not 135. You did not exactly play in Michigan's heyday, either. During Edwards' time in Ann Arbor, from 2001 to 2004, the Wolverines lost 12 games and were 1-3 against the Buckeyes.
Sad!
Sorry, now we're being a jerk, too.
Above all, the tweet struck a chord because it cast light on an age-old debate: Where is the line in criticizing amateur athletes?
It's a question we all must answer, from the boo birds who believe their $100 ticket entitles them to a perfect performance from a 19-year-old sacrificing limb and brain for a $100 million enterprise — or at least better than consecutive three-and-outs against Western Michigan! — to us dopes in the press box.
For me, it is simple. If we're talking high school or youth sports — 4-and-under Pony league championship game or not — it is not OK to criticize an athlete. Ever. That's not the wimpification of America. It's basic decency.
If the arena is big-time college sports, well, Michigan coach Jim Harbaugh put it best.
"If anyone wants to attack the character of anybody on our ballclub, come after me," he said. "Not the youngsters."
It is a good message. Look, Michigan deserves every bit of scorn, especially Harbaugh, a 54-year-old man who earns $7 million per year. It is fair to note he has fewer wins in his last 18 games (nine) than Kentucky's Mark Stoops (10). Or that his teams are flatter in big games than week-old cola. Or that his offensive playbook still appears stolen from a cave wall.
It is fair, too, to criticize a player's performance. That comes with the stage, or as Urban Meyer tells his players, "life in the big city." Passion is great.
But let's remember these are still kids, or close to it. It is never fine to make it personal, as Edwards — a hell of a player himself who knows well the commitment required of a Division I athlete — curiously did.
Edwards later apologized for the tweet, saying he was "inebriated," but not before getting in a final dig at Harbaugh.
"1-6 against rivals and the one win was against 3-9 MSU," he wrote. "Last thing I will ask and really think about this before you get mad...is Michigan better than Iowa?"
Now, that's valid, the sort of criticism you would expect from a non-homer analyst. Unfortunately, Edwards had already learned his lesson: You drink. You tweet. You lose.
Kind of like his Michigan teams twice did to Iowa.
Contact David Briggs at dbriggs@theblade.com, 419-724-6084, or on Twitter @DBriggsBlade.