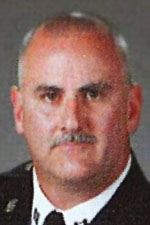 Jaegly
HANDOUT NOT BLADE PHOTO Enlarge
Peter J. Jaegly, 49, a Toledo firefighter the last 20 years and a battalion chief since 2011, died Sunday in Hospice of Northwest Ohio, South Detroit Avenue.
He worked until November, 2012. For 2½ years he had cancer, and he handled the disease "with grace and dignity," his wife, Nora, said. "That was his goal, and he achieved it."
"He was so good at what he did, and he affected so many lives in the public and so many lives in our department through his mentorship and leadership," Toledo Fire Chief Luis Santiago said. "I'm sure he didn't even know how many lives he's affected."
The department recognized him twice for his service. In 1998, he received a certificate of special recommendation for high quality actions after he removed children from a burning house, and in 2000, he received a lifesaving award for pulling an unconscious person from a burning building.
"He was all about, 'It's a group effort; it's a team effort,' " said Battalion Chief Karen Marquardt. "He was embarrassed to get credit for it."
Chief Jaegly joined the fire department in 1993 and worked out of Station 18 on Lewis Avenue; Station 9 on Detroit Avenue; Station 6, then on Starr Avenue; briefly at Station 19 on Stickney Avenue, and at Station 21 at Detroit and Glendale avenues.
Early on, he sought the counsel of Chief Santiago. The men went to St. Patrick of Heatherdowns school together and became reacquainted when Chief Jaegly joined the fire department.
"He was a consummate professional," Chief Santiago said. "You could recognize right away that he was the type of person who was going to advance and advance quickly."
They were together at Station 18, where Chief Santiago was captain.
"He was a great guy to live with around the station. We had a lot of fun and poked a lot of fun at each other and other crew members, but he had an uncanny ability when we had to shut that off and get to business," Chief Santiago said. "Once the tones went off and it was time to perform, he was there."
Chief Jaegly had been a member of the hazardous materials and confined space teams and received his paramedic certification in 2002. He was promoted to lieutenant in 2000 and captain in 2007. He was named a battalion chief in 2011.
He was a journalism major at the University of Toledo, and his command of language was put to use while assigned to internal affairs, where he had to file detailed and accurate reports, Chief Santiago said. More recently, Chief Santiago assigned him to review and update the fire department's procedure manual.
He was born May 21, 1964, to Bernice and John W. Jaegly. He was a 1982 graduate of Maumee High School.
He later worked for commercial photographer Jim Rohman.
He received a bachelor of arts degree in communications in 1991 from UT.
He played soccer with the fire department team. He coached the soccer teams of daughters, Katie, 14, and Sophie, 12, since Katie was 5. He admired American muscle cars and liked bicycling.
He proposed marriage to his wife at 4:30 a.m. when they were on a tandem bicycle during the annual Morning Glory Ride in Cincinnati.
Surviving are his wife, Nora, whom he married July 13, 1996; daughters, Katie and Sophie; mother, Alma "Bernice;" brother, Robert, and sister, Jill Irwin.
Visitation is 2-7 p.m. Friday in the Coyle Funeral Home. A Last Alarm service is at 6 p.m. Friday in the mortuary, followed by a scripture service and a time for sharing memories.
The family suggests tributes to the "For Pete's Sake" fund of the Toledo Fire and Rescue Foundation at the Toledo Fire Fighters Credit Union.
The fund was established in his honor to help families of firefighters who suffer a catastrophic illness or injury, Chief Santiago said.
Contact Mark Zaborney at: mzaborney@theblade.com or 419-724-6182.
Guidelines: Please keep your comments smart and civil. Don't attack other readers personally, and keep your language decent. Comments that violate these standards, or our privacy statement or visitor's agreement, are subject to being removed and commenters are subject to being banned. To post comments, you must be a registered user on toledoblade.com. To find out more, please visit the FAQ.