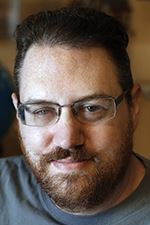 Severino.
THE BLADE/KATIE RAUSCH
Enlarge | Buy This Image
Michael "Sevi" Severino, a dedicated animal-welfare advocate, who loved nothing more than helping the homeless dogs of Toledo, died Sunday at his home in Toledo of apparent natural causes, according to a police report. He was 38.
Even after losing a leg last year to complications of diabetes, he continued to volunteer for Planned Pethood and the Lucas County Dog Warden's Office.
He was at the shelter recently filming videos of the adoptable dogs to post on Facebook.
No longer able to walk the dogs after the loss of his leg, he found other ways to help, Lucas County Chief Dog Warden Julie Lyle said.
He also liked to cook for the special needs dogs at the pound and recently made chicken and rice for Princess P, a Labrador retriever mix who had a severely embedded collar.
"He liked to call it his K-9 Meals on Wheels," Ms. Lyle said. "His passion for the animals was beyond measure."
Mr. Severino started fostering dogs for Planned Pethood in 2010 after reading in The Blade about Darby, a Rottweiler found with severe burns on her back.
He also served in many other roles including screening adoption applications and assisting at the group's adoption events.
Volunteers with the group took Ruby, his beloved pug and beagle mix, to visit him when he was laid up earlier this year at Heartland of Perrysburg.
Ruby has been with friends Paul and Jean Vanderhorst in Lambertville since Mr. Severino went into the hospital last year and subsequently lost his leg earlier this year as a result of blood clots.
While at Heartland, he recruited a physical therapist there to become a foster volunteer.
"Being able to continue to do that kind of stuff has kept me sane," Mr. Severino told The Blade in May.
"When you have so much of your life taken away from you, being able to do something that you used to do, it makes a huge difference."
Nikki Morrey, Planned Pethood executive director, said his death hit hard.
"His passion and deep-rooted love for animals and for his fellow human beings will be missed."
Mr. Severino graduated from the University of Toledo with bachelor's and master's degrees in accounting along with a law degree.
He was a member of Pi Kappa Phi fraternity and served on its board.
Mr. Severino was an avid fan of the Chicago White Sox, Cincinnati Roller Girls, and Toledo Mud Hens. He had visited all but three of the Major League Baseball parks.
Suviving are his parents, Sheila Severino and John Severino.
Visitation is 3 to 9 p.m. Friday in Walker Funeral Home. Services are at 1 p.m. Saturday in Grace Lutheran Church.
The family suggests tributes to the Michael Severino Benefit or to Planned Pethood.
Contact Tanya Irwin at: tirwin@theblade.com or 419-724-6066 or @TanyaIrwin.
Guidelines: Please keep your comments smart and civil. Don't attack other readers personally, and keep your language decent. Comments that violate these standards, or our privacy statement or visitor's agreement, are subject to being removed and commenters are subject to being banned. To post comments, you must be a registered user on toledoblade.com. To find out more, please visit the FAQ.