RAY BURKHOLDER, 1917-2013
Pandora man tracked weather since 1949
10/28/2013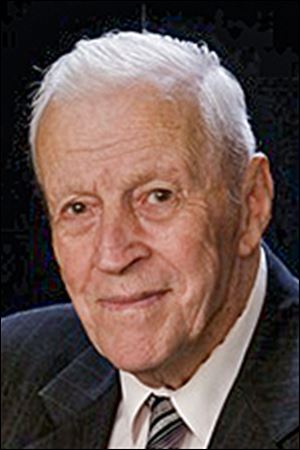 Burkholder
PANDORA, Ohio — For nearly six decades, Ray Burkholder weathered blistering summers, bitter winters, and all seasons in between to record the ups and downs of northwest Ohio's weather.
Since 1949, Mr. Burkholder diligently sent his temperatures and precipitation recordings, always collected at midnight from his Putnam County home, to the National Weather Service for incorporating into the regional and national weather picture.
The longtime weather observer died on Oct. 17 at age 96 at Hilty Memorial Home in Pandora, where had lived for more than four years.
The cause of death was not known, said his daughter, Carolyn Haller.
Over the decades, he collected not only data, but honors from the National Oceanic and Atmospheric Administrations and the National Weather Service to recognize his longevity and accuracy.
In a 2001 interview before Mr. Burkholder was to receive the NOAA's coveted Environmental Hero Award, Aaron Stevens, a National Weather Service technician, called Mr. Burkholder "an incredible individual. All his records are just perfect."
Mr. Burkholder was born on July 3, 1917, in Pandora, to Christian and Bertha Burkholder. His mother died when he was 4 and he lived with an aunt and uncle until his father remarried in 1925.
He graduated with honors in 1935 from Crawfis College High School near Ottawa.
Mrs. Haller said he wanted to become a doctor and attended Bluffton College, now Bluffton University, for three days.
"His dad came to him and said he needed him on the farm to bring in the corn," she said.
But one chore led to another chore request, and "eventually, he just gave up" on college. "He was never bitter about that," she said. "That's what amazed me."
He and his wife of 71 years, the late Elvina Ellen, raised livestock, grain, and nine children.
John Maidlaw, the observer in Ottawa, gathered the data for 44 years. After he died, his widow remembered Mr. Burkholder's interest and turned the duties over to him in 1949, Mrs. Haller said.
About six years ago, Mr. Burkholder finally yielded to age and his family's concerns and turned the instruments over to his son-in-law, Guy Verhoff of Pandora.
When he was ill or couldn't be home at midnight to collect the data, one of his nine children or his wife would do it for him, making sure Pandora's weather station never missed a beat.
He was a lifelong member of Grace Mennonite Church in Pandora.
When he was younger, he was part of the Mennonite Disaster Service team and would aid people who were victims of violent weather in Ohio, Kentucky, Pennsylvania, and Wyoming. He helped at the scene of the Xenia, Ohio, tornado in 1974.
He twice served on the Pandora-Gilboa Local Schools' Board of Education and he helped coach high school track.
He is survived by sons David, Donald, and Dean; daughters Sara Beth Etter, Carolyn Haller, Betty Yarnell, Janice Edman, Debra Johnson, and Barbara Verhoff; 32 grandchildren, 64 great-grandchildren, and 11 great-great-grandchildren.
Chiles-Laman Funeral Homes handled the arrangements. Memorials are suggested to the Pandora-Gilboa athletic boosters.
Contact Jim Sielicki at: jsielicki@theblade.com or 419-724-6050.