Chase W. Clements [1933-2013]; In print, on air, writer covered local politics
11/6/2013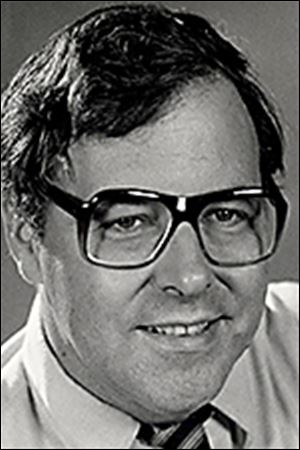 Clements
Chase W. Clements, a former Blade politics writer who in a long Toledo journalism career guided his audience through a landscape of political characters and the thicket of local government, died Monday in Ebeid Hospice Residence, Sylvania. He was 79.
He died of liver and kidney failure, but he had health problems the last two years especially, his wife, Sue Rioux, said.
Mr. Clements was a journalist in his hometown for nearly 40 years — at broadcast outlets for about 18 years and at The Blade for 21 years.
Answering "What important stories have you covered?" on a 1979 Blade employee questionnaire, he wrote: "Just about anything that has happened in Toledo since 1961."
"He was practically the definition of Channel 13's election night coverage at a time before television hired reporters for their good looks and sex appeal," said John Robinson Block, publisher and editor-in-chief of The Blade. "He was a rock-solid reporter and a welcome addition to The Blade. He was at his core a reporter."
Mr. Clements' last assignment at The Blade was covering the western suburbs for the Neighbors section. He retired in 2000.
Most memorably, he was the Blade politics writer whose weekly "Political Notebook" column was a must-read for movers and shakers, foot soldiers and functionaries, aspirants and pretenders.
He wrote with erudition and authority and a self-deprecating wit. He could analyze long-forgotten results and write a passage that began "in the 10 council elections" since X date, or "History shows that a candidate lower than 11th in the council primary ..."
He might describe following a hunch — "our unerring nose for news" — certain that he had a story. "Wrong again, Brenda Starr," he'd confess.
Then there was "... the traditional Notebook motto emblazoned on our gonfalon," which was a Latin phrase that, he wrote, translated as "Often wrong, never in doubt."
As a journalist he had followed Andy Douglas from freshman Toledo councilman to Ohio Supreme Court justice ("once a politician, now a judicial statesman," Mr. Clements once described Mr. Douglas). Mr. Douglas on Tuesday recalled Mr. Clements as "confrontational, accusatory, like most political reporters are. ... But he was always funny, and I think genuinely cared about the process."
"Chase was a good guy. I'll always have fond memories of Chase," he said.
Chase Werner Clements, born Nov. 15, 1933, to Sylvia and George Clements, was a 1951 graduate of DeVilbiss High School.
In 1955, he received a bachelor of arts degree in history from Washington and Lee University, Lexington, Va., which in 1953 awarded him a scholarship in classical Greek. As a hedge against active military service in the Korean War, he wrote, he joined the ROTC, "as did hundreds of thousands of others."
"The thinking was along the lines of 'Let's buy four years and see if they stop shooting over there.' They did," he said.
Upon graduation, he was commissioned as a second lieutenant in the Army Reserve. The next year, he was in Stuttgart, Germany, with the 10th Infantry Division, "which was Bob Dole's old outfit, but nobody outside Russell, Kan., had ever heard of him at the time," Mr. Clements wrote in 1988.
About the time of the aborted 1956 Hungarian revolution, he sat in a Jeep on the East German border "and watched more Russian tanks than I ever want to see again parked across a little barbed wire fence in a field," he wrote. "If they crossed a plowed strip in the field, I was supposed to call somebody on the radio — if I had the time. Do I feel any less a patriotic American for doing that instead of taking my chances in Korea?
"Not a bit of it; just luckier," he wrote.
He pursued graduate studies in American history at the University of Toledo. He was a teacher in the Toledo Public Schools from 1959-61. Also in the 1950s, he and boyhood friend Paul Bernie Leiter — who was a teacher and, later, a psychologist — co-hosted The Sounds of Jazz, a radio show on WTOD-AM.
From 1961-64, he worked for WTOD-AM radio. For much of 1964, he worked at WOHO-AM radio. He once described his early career as covering city council by "toting around a tape recorder for a thousand-watt radio station in a corn field."
He joined WSPD-TV, Channel 13 — the predecessor to WTVG-TV — in November, 1964. As a street reporter, he had a variety of assignments. One print advertisement from 1966 for the 6 and 11 p.m. newscasts featured Mr. Clements quizzing then-Toledo police Chief Anthony Bosch next to a squad car. The headline: "Chief Anthony Bosch and Chase Clements ... FAMOUS ON THE LOCAL SCENE"
A 1969 print ad touted a series of investigative reports by Mr. Clements on what Sheriff William Metzger had done after a year in office to clean up the Lucas County jail, or, as the ad described it, "a disgrace to modern penology." Nearly two years before the U.S. Supreme Court's landmark Roe v. Wade decision that made abortion rights constitutional, Mr. Clements spoke with women who had abortions for the Venner Ward Report, the nightly newscasts named for anchors Frank Venner and Gordon Ward.
A print ad in November, 1970, promised "first on-the-air all night long" election coverage, featuring live reports from Mr. Clements at the Lucas County Board of Elections. A 1973 ad simply featured Mr. Clements' photo, signature, the name of the newscast, with the headline "Someone To Believe In ..."
"Because of his contacts, he had a lot of inside information that no one else could get," said Gordon Ward, retired Toledo broadcast veteran. "He was very scrupulous about getting everything right, and he'd show both sides of a story."
On the air, "he was conversational in his delivery and always understood," Mr. Ward said. "He was never condescending to the audience. He wrote stuff as he saw it and as it was."
Mr. Clements in 1971 became news director of WSPD-TV. Several years later, he was named assignment editor. The station fired him from that job Aug. 17, 1979. He was snapped up by The Blade and was on the payroll Sept. 10 as a staff writer.
"The transition for him was seamless, because he was an outstanding reporter, and that's the heart of good journalism," said Mike Bartell, a retired Blade night city editor who was a University of Toledo student working at WSPD radio when he first got to know Mr. Clements. "He was an absolute asset to The Blade."
Mr. Clements received early attention at the newspaper for an article about the shabby condition of the Ottawa Park shelter house, which was used as a polling site.
"I really think he found his niche in newspaper writing," said Thomas Walton, retired editor and vice president of The Blade.
Mr. Clements, well-acquainted with the Toledo news landscape, was a Blade assignment editor for a time. For much of his Blade career, he had occasional night and weekend and vacation relief duty in that role.
In 1984 he became the newspaper's politics writer, succeeding Thomas P. Reynders, the onetime dean of Ohio's politics correspondents.
"I like politicians — not everybody does," Mr. Clements said in a Blade promotional ad. "Politicians are fun to talk to ... at least most of the time when they are not in the campaign mode, but they always have something interesting to say ... they are just fun to be with."
And he knew them all, Mr. Walton recalled, "people in both parties, public officials down to the precinct level.
"It's clear that politicians enjoyed his company. He liked being where they were and liked assembling anecdotes for his column along the way," Mr. Walton said. "People trusted him. He was accurate first and foremost."
Edson Whipple, a retired Blade managing editor, said: "He was good at covering all the angles of political stories."
"Chase really seemed to understand the symbiotic relationship between sources and reporters," said Michael Beazley, a former chairman of the Lucas County Democratic party.
"He knew there was a line," said Mr. Beazley, also a former director of the Lucas County Board of Elections and now Oregon city administrator. "He managed to have good relationships, both personal and professional, on his beat, but when it was time to do his job, it was time to do his job."
He seemed prescient at times about the happenings in corridors of power and at the parties' headquarters, and he knew through "good solid reporting," Mr. Beazley said. "He called and asked, and he knew that ultimately people on the other side of the notebook were trying to shape the news. He wasn't fooled, but he was able to use that effectively to get the news and get information that other reporters wouldn't necessarily have."
After Mr. Clements' wife, Sue Rioux, a Democrat, became Lucas County recorder in 1990, he noted in a column that she'd always been active in party politics, that they'd been going together for some time before their marriage two years earlier, and that his superiors at The Blade and leaders of both parties knew of their relationship.
At home, she didn't tell about her political involvements, and he didn't tell her what he was writing. Republicans didn't seem to care. Democrats lived in terror that his wife would inadvertently "let slip some deep, dark Democratic secret that would have me rushing about, shouting cliches like, 'stop the presses,' and 'hello, Central, give me rewrite.' Actually they give themselves too much credit for their ability to keep secrets — political secrets are virtually self-leaking, and instantaneously, too."
He was a student of history — and of thoroughbreds.
He often navigated multiple books at once, and he traveled at least annually to Saratoga Race Course in Saratoga Springs, N.Y., and Keeneland race course in Lexington, Ky.
His marriage to the former Jane Duchac ended in divorce.
Surviving are his wife, Sue Rioux, whom he married in September, 1988; sons, Neal and Chase Clements, Jr.; stepsons, Joe, William, Thomas, and Don Rioux; stepdaughter, Michelle Rioux, and 10 grandchildren.
The family will greet friends 3-7 p.m. Saturday in the Walker Funeral Home, Sylvania Township. There will be no service.
The family suggests tributes to Helping Hands of St. Louis in East Toledo or Cherry Street Mission.
Contact Mark Zaborney at: mzaborney@theblade.com or 419-724-6182.