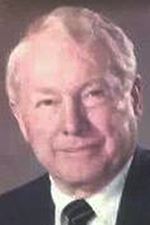 Westover
HANDOUT NOT BLADE PHOTO Enlarge
MONROE — Arden T. Westover, 98, a retired grocery executive who was elected chairman of the Monroe County Board of Commissioners from his first year in office through his last, 16 years later, died Sunday in IHM Health Care Center, Monroe.
He had pneumonia and a blood clot in his lungs, his daughter Theresa said. He'd only been ill a week and in the health care center for two days. He still lived in the house he and his late wife, Anna, bought more than 70 years ago.
He completed his 16th year as a commissioner in 1984, when he chose not to seek re-election.
On paper, the county board was a part-time job. In practice, Mr. Westover often worked more than 40 hours weekly. The county did not have an administrator, and Mr. Westover took a leading role in such projects as building a county jail and moving health department offices.
"I don't see myself as having any great attributes," he told The Blade in 1984. Family members and friends cited his common sense and ability to reach compromise — which, he told The Blade, is "what government is really all about."
His daughter said: "He had eight children. He had to be a great negotiator. He had a great sense of humor and didn't take too much to heart when someone didn't agree with him. He said when everyone can work together, you can accomplish a lot."
Son Arden, Jr., died in 1985 and daughter Margaret died in 1997.
From 1987-2004, Mr. Westover was director of the Frenchtown Charter Township Resort District Authority, which oversees projects — roads, storm drains, pumping stations — in beach communities along the Lake Erie shore.
"I learned a lot from him," said Jim Spas, who was on the authority board when Mr. Westover was hired and succeeded him as director. "He was a very good listener. Once he heard all the facts, then he made his decisions on which way to proceed."
Mr. Westover retired in 1981 from the former Seaway Food Town, a Maumee-based grocery chain.
He previously was vice president for meats of Gruber's Food Market. For 23 years, he worked for the Micka's Market in Monroe.
He was transferred to Monroe in the early 1940s by the Lee and Cady food warehouse firm.
He was born Sept. 26, 1915, in Boyne Falls, Mich., and was valedictorian of his 1933 graduating class. He worked for a time at Briggs Manufacturing in Detroit.
He was a member of St. Mary Church and had been on the parish council. He was a district deputy of the Knights of Columbus.
Mr. Westover and his wife, Anna, married April 15, 1939. She died Feb. 2, 1989.
Surviving are his sons, Thomas, Roger, and Gerard; daughters, Kathleen Livernois, Theresa Burkhart, and Sister Patricia Westover; 16 grandchildren, and 20 great-grandchildren.
Visitation is 3-8 p.m. today in the Rupp Funeral Home, Monroe, with a Knights of Columbus service at 7 p.m. in the mortuary. Funeral services will be at 10 a.m. Thursday in St. Mary Church, Monroe, where the body will be after 9 a.m.
The family suggests tributes to the IHM Retirement Fund; St. Mary Church, or St. Mary Catholic Central High School, Monroe.
Contact Mark Zaborney at: mzaborney@theblade.com or 419-724-6182.
Guidelines: Please keep your comments smart and civil. Don't attack other readers personally, and keep your language decent. Comments that violate these standards, or our privacy statement or visitor's agreement, are subject to being removed and commenters are subject to being banned. To post comments, you must be a registered user on toledoblade.com. To find out more, please visit the FAQ.