Joe M. Moorhead [1908-2014]; Prosecutor, judge served Hancock Co.
3/4/2014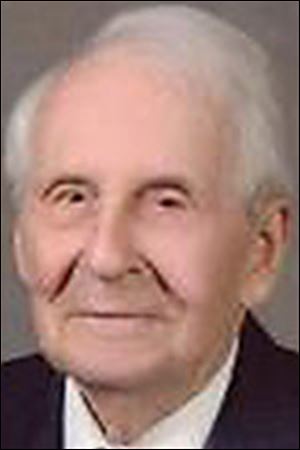 Joe M. Moorhead
FINDLAY — Joe M. Moorhead, a retired common pleas judge who held elective office in Hancock County for more than 35 years, died Saturday in Heritage Manor, where he lived the last five years. He was 105.
"God love him, I think his body just finally wore out," his daughter, Jo Ann, said. "He didn't have a big chronic thing."
He was believed to be the oldest retired judge in the state, reported Court News Ohio, a service of the Ohio Supreme Court's public information office.
Mr. Moorhead, a Republican, was elected Hancock County prosecutor in 1940, the year after he passed the bar exam. He later was re-elected.
"He decided he wanted to get into politics," his daughter said. "That, he felt, might be a good beginning."
The position was part time, and he continued his general practice of law in Findlay. He was elected judge of Hancock County Probate Court in 1949 and to the common pleas bench in 1953, where he remained through 1976. For another decade, he traveled the state as a visiting judge by assignment of the state Supreme Court.
"He had a clear-cut sense of right and wrong, both on the bench and in his personal life," his daughter said. "He stuck to that, and people respected him greatly. He followed the law."
His caseload grew exponentially, and when he left, he was presiding over many more criminal cases than previously, his son said.
"Dad was a different man coming home from work in the late '60s than in the early '60s," his son, John, said. "It was a weightier job."
At home, Mr. Moorhead tended dozens of rose bushes and readily gave the flowers away. Every Saturday, he went to a farm he leased to paint and make repairs "and take what is broken down and build it up," his son said. "I think that offset a lot of what he experienced in the courtroom, the stress and the heaviness of it. My mom and I talked about that, how he needed his Saturdays."
Mr. Moorhead was a former president of the Findlay Kiwanis and the Findlay YMCA. He was a 78-year member of First Presbyterian Church, where he'd been an elder, trustee, and Sunday school superintendent. He was a Mason for 80 years.
He was born April 27, 1908, in Liberty Township to Nellie and Dallas Moorhead, the eldest of six. "He loved to say there was snow on the apple blossoms when he was born," his daughter said.
Mr. Moorhead graduated from a township consolidated high school. He was a 1930 graduate of Ohio State University and taught social studies, history, and science, saving so he could attend law school. He received his law degree from Ohio Northern University in 1938. He was a second lieutenant in the Army during World War II and served stateside.
He and Jean Elizabeth Pfau married April 11, 1941. She died Oct. 19, 2004.
Surviving are his son, Dr. John Moorhead; daughter, Jo Ann Wilson; sister, Jan Feller; brother, Dallas H. Moorhead; four grandchildren, and five great-grandchildren.
Visitation will be from 3 to 5 and 6:30 to 8:30 p.m. today in the Kirkpatrick-Behnke Funeral Home, Findlay.
Services will be at 11 a.m. Thursday in First Presbyterian Church, Findlay.
The family suggests tributes to the church or a charity of the donor's choice
Contact Mark Zaborney at: mzaborney@theblade.com or 419-724-6182.