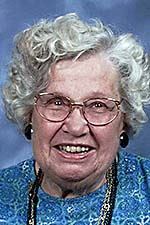 Knorr
Jane Knorr, a Toledo grade-school teacher who was best known as a goodwill ambassador for the Johnny Knorr Orchestra, the big band her husband founded, died Saturday in her Oregon home. She was 91.
She had dementia and was in failing health, said their son, Jerry Knorr.
She became known as "the lady with the lights" among the Johnny Knorr Orchestra's fans.
When the band played at, say, Centennial Terrace in Sylvania, she was there in an illuminated hat or visor.
"It became a way to find her in the crowd of people. That would make her stand out," said their son, who now directs the orchestra.
"She would wear her hat and put some lights on it. She was very fond of supporting dad's musical career."
The Johnny Knorr Orchestra made its debut in 1960 bedecked in red vests she made.
"She was very fond of supporting Dad's musical career," said their son, a band member from the start.
When the younger Mr. Knorr took the helm, "she was very pleased with that," he said.
"The orchestra was part of the family, and it must go on."
She was born Aug. 10, 1922, to Alma and Clarence Hammer.
She was a 1940 graduate of DeVilbiss High School.
She and her husband knew each other from childhood. Her father's younger brother, Norman Hammer, had married Mr. Knorr's sister, Grace.
In Jane and Johnny's courting days, she liked to sing a hit tune of the day, "Oh Johnny, Oh Johnny, Oh!"
The couple married Nov. 8, 1941, and she interrupted studies at the University of Toledo as they started a family.
She later received a bachelor of education degree from UT and was hired by Toledo Public Schools. She taught second and third grades, mostly at Glenwood and Keyser schools.
"She just liked children," her son said.
Donna Parker, a second-grade student of Mrs. Knorr's at Glenwood, recalled her piano playing and exquisite printing.
"She was a sweetheart," Mrs. Parker said.
"She came to my wedding. I went to see her at Centennial Terrace, and we had lunch at her house sometimes. She had a zest for life. I loved her enough to keep in contact. I called her a lot."
Mrs. Knorr liked to knit and crochet and had an extensive collection of salt and pepper shakers.
Mr. Knorr died Aug. 28, 2011. Mrs. Knorr also was preceded in death by her twin sister, Jean Malcom.
Surviving are her son, Gerald Knorr; daughter, Janice Wilcox; eight grandchildren, and 11 great-grandchildren.
Arrangements are pending at Walker Funeral Home.
The family suggests tributes to Christ Presbyterian Church, where she and her husband were members.
Contact Mark Zaborney at: mzaborney@theblade.com or 419-724-6182.
Guidelines: Please keep your comments smart and civil. Don't attack other readers personally, and keep your language decent. Comments that violate these standards, or our privacy statement or visitor's agreement, are subject to being removed and commenters are subject to being banned. To post comments, you must be a registered user on toledoblade.com. To find out more, please visit the FAQ.