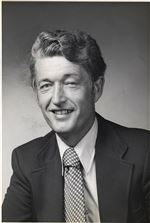 Zaski
Blade file photo Enlarge
David K. Zaski, 81, who rose from Toledo Edison messenger to a company vice president and was a leader in civic, service, and charitable groups, died Sunday in the Comfort Care hospice at ProMedica Lake Park, Sylvania.
Mr. Zaski, who lived the last six years at Otterbein Portage Valley Retirement Village in Pemberville, had cancer, his daughter, Debbie, said.
He retired in the early 1980s, several years after a brain aneurysm caused him to lose sight in his left eye and weakened the left side of his body.
Toledo Edison hired Mr. Zaski in 1950 to work in its mailroom. After Air Force service in the Korean War, he returned to the utility as a credit manager and an accounting analyst, became customer-service manager, and, in 1969, director of the customer-relations division.
In 1975, Mr. Zaski was elevated to vice president of customer services. He dealt with line workers, meter readers, and customers.
"He had a good way of dealing with and talking to people," his daughter said.
Mr. Zaski was a former president of the Credit Association of Northwest Ohio and the Toledo Exchange Club. He was active with Junior Achievement, the Better Business Bureau, and United Way.
After his aneurysm, he became a trustee of St. Francis Rehabilitation Hospital and Nursing Home in Green Springs, Ohio, where he had stayed. He also served on the local boards of Easter Seals — for which he was a poster adult — and the Multiple Sclerosis Society and Kidney Foundation.
A former Sylvania resident, he volunteered for the Sisters of St. Francis and Sylvania Community Services. He had been on the Tam-O-Shanter and Sylvania Community Services boards.
"He felt that he wanted to do things for others, since he was given the gift of life after that aneurysm," his daughter said.
He was born June 23, 1932, to Martha and Frank Zaski and was a graduate of Woodward High School. He received a degree in business from the University of Toledo. He'd been a member of Olivet Lutheran Church.
He and the former Patricia Kile married July 17, 1976. She died Sept. 9, 2005. His previous marriage to the former Patricia Siglow ended in divorce.
Surviving are his daughter, Deborah Arnold; son, David, Jr.; seven grandchildren, and four great-grandchildren.
Memorial services will begin at 11 a.m. Saturday in the Reeb Funeral Home, Sylvania, with visitation starting at 10 a.m. The family suggests tributes to Whiteford High School's baseball and softball programs.
Contact Mark Zaborney at: mzaborney@theblade.com or 419-724-6182.
Guidelines: Please keep your comments smart and civil. Don't attack other readers personally, and keep your language decent. Comments that violate these standards, or our privacy statement or visitor's agreement, are subject to being removed and commenters are subject to being banned. To post comments, you must be a registered user on toledoblade.com. To find out more, please visit the FAQ.