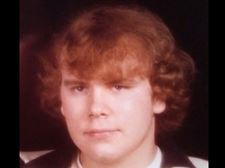 Rick H. St. Johns.
Handout NOT BLADE PHOTO Enlarge
Rick St. Johns, who overcame a debilitating accident to become a member of the Toledo Silver Streaks wheelchair basketball team and a high school basketball coach, died Monday in Mercy St. Vincent Medical Center. He was 50.
His mother, Pat, said he died of complications from a heart attack after being admitted into the hospital a week ago.
"It was really sudden," Ms. St. Johns said. Mr. St. Johns lived with his mother in Genoa.
Mr. St. Johns played for the Silver Streaks from 1978 into the early 1990s. The wheelchair team, which was often ranked among the top teams in the nation by the National Wheelchair Basketball Association, appeared in the Final Four in 1985, 1986, and 1987.
He also was a member of the U.S. team that won the gold medal in the 1988 Paralympic Games in Seoul, South Korea.
At age 12, Mr. St. Johns and his brother were playing with a 32-caliber handgun when it discharged and struck him in the spinal cord, resulting in paralysis from the chest down.
He joined the Silver Streaks several years later. He was the youngest member of the team for many years.
"I don't know where I'd be without the Silver Streaks," Mr. St. Johns told The Blade in 2001. "I started with the team in 1978, and I've been with them ever since. It's been such a great outlet — instead of sitting at home doing nothing, I'm here. I just want the Silver Streaks to be there for the 13-year-old kid who needs it, just like they were for me when I needed it."
Dennis Mussery, a founding member of the Streaks, said he initially had doubts whether the youngster would make the team.
"My first thought was that this kid is not going to make it. But he took to wheelchair basketball like a fish to water. He practiced and practiced," he said. "He didn't get to play much when he first started. He really worked at it and became the athlete that he became."
When he was hired by Ottawa Hills High School in 1992 to coach the girls basketball team, Mr. Mussery took on Mr. St. Johns as an assistant because of his knowledge and skill in the sport. They also coached a girls team in the Amateur Athletic Union, winning a championship in the late 1990s.
"He was a student of the game. He knew wheelchair basketball. He knew regular basketball. He was very knowledgeable," Mr. Mussery said. "He coached some of the best girls 18 years and younger in the AAU."
Mr. St. Johns also excelled at other sports in wheelchair competition.
Mike Miles, also a Silver Streaks teammate, said he and Mr. St. Johns paired up in wheelchair tennis to compete in doubles, winning the U.S. Tennis Association Midwest Regional championship for three consecutive years in the 1990s.
Mr. St. Johns also played first base and pitched on a wheelchair baseball team sponsored by the Cleveland Indians with Toledo and Columbus residents, he said.
Mr. St. Johns also had been the project manager for a golf program for people with disabilities at the Ability Center of Greater Toledo. "Rick was such a visionary," Mr. Miles said.
Mr. St. Johns was born Jan. 9, 1964, to Patricia and Duwane St. Johns. He graduated in 1983 from Start High School.
Surviving are his mother, Pat; father, Duwane; sister, Joy Moser; brothers, Duwane, Jr., and Jason; and stepsisters, Kristina Kieffer and Karri Knoblauch.
Visitation will be from 2-8 p.m. Thursday in the Freck Funeral Chapel, Oregon, with a service conducted by the Rossford Eagles at 7 p.m. Services will be at 11 am. Friday in the funeral home.
Contact Mark Reiter at: markreiter@theblade.com or 419-724-6199.
Guidelines: Please keep your comments smart and civil. Don't attack other readers personally, and keep your language decent. Comments that violate these standards, or our privacy statement or visitor's agreement, are subject to being removed and commenters are subject to being banned. To post comments, you must be a registered user on toledoblade.com. To find out more, please visit the FAQ.