Nellie D. Edwards; 1944-2014: Investigator fought for fair housing
7/11/2014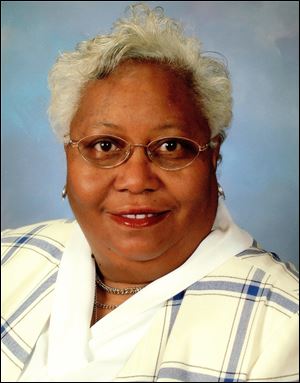 Edwards
Nellie D. Edwards, who won respect, and housing discrimination cases, as chief investigator of the Toledo Fair Housing Center, died Monday in ProMedica Flower Hospital, Sylvania. She was 69.
She had congestive heart failure, but her health declined after treatment last year for colon cancer, her daughter DeeDee said. Mrs. Edwards learned recently that she had breast cancer.
Mrs. Edwards of South Toledo retired in 2006 from the Fair Housing Center, where she worked for 27 years. She later received the center's Enforcement-Litigation Award for her work that set national precedents, including on a landmark case in which sexual harassment by a landlord was found to be a violation of the federal Fair Housing Act.
"That case is still cited around the country," said Michael P. Marsh, president and chief executive of the Fair Housing Center. "She was a champion of individual civil rights.
"She was a pioneer in our movement. She was a warrior for fair housing."
Mrs. Edwards was a teacher in Toledo Public Schools with a master'‍s degree in guidance and counseling when she arrived at the center.
For most of her tenure, she coordinated undercover investigations into suspected discrimination on the basis of, for instance, race, disability, sex, or marital status. If the complaints were found to have merit, she'‍d work with state and federal agencies or recommend legal action.
But a case often started with someone calling or stopping by to report he or she wasn't able to rent or close a house deal or buy insurance despite being qualified.
Her degree in guidance and counseling "was paramount in her work at the Fair Housing Center," her husband, Willie, said. "She was able to talk to people on their level. But also on the flip side, she could be very tenacious."
After she retired, Mrs. Edwards joined the Fair Housing Center board.
She was born Dec. 4, 1944, in Altheimer, Ark., to Rosie Lee Bland-Jackson and Jodie Jackson, and grew up in Wabbaseka, Ark. She graduated from high school there and received a bachelor of science degree in vocational education from the University of Arkansas at Pine Bluff. She received her master'‍s degree from the University of Toledo, and later received a bachelor of arts degree in Christian education from American Baptist Theological Seminary.
She taught home economics at Robinson Junior High School and Scott High School, and was a substitute teacher at Franklin and Lagrange schools.
She self-published Favorites From Our Table, which featured recipes from family and friends in Arkansas. She'd recently completed Favorite Recipes for Weight Loss Made Easy.
"She was a hero," her daughter said. "She was educated. She was smart. She was professional, but she also would have your back in tough times. I haven'‍t met a greater person."
Surviving are her husband, Willie M. Edwards, whom she married Sept. 2, 1969; daughters Jessie Walker, Sonya Edwards, and Dionise "DeeDee" Barnett; sons, Erroll Brewer and Darrell Walker; stepdaughters Antonia Ballard and Marilyn Redfern-Jernigan; stepsons, Willie M. Edwards, Jr., and Terrance Edwards; brother, Carl Jackson; sister, Claudia Edwards; 31 grandchildren, and 27 great-grandchildren.
Visitation will be from 4-6 p.m. today in the House of Day Funeral Service Chapel. Services will be at 11 a.m. Saturday in Union Grove Missionary Baptist Church, where a wake will begin at 10 a.m.
Contact Mark Zaborney at: mzaborney@theblade.com or 419-724-6182.