Sarah A. Mancy; 1939-2014: Elder-Beerman worker inspired steadfastness
7/16/2014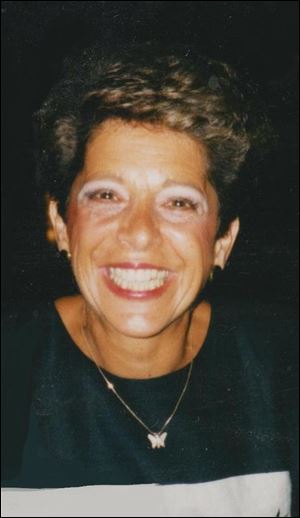 Mancy
Sarah A. Mancy, whose fashion sense and good cheer made her a success in a quarter-century of clothing sales at Elder-Beerman's Westgate store, died Tuesday in assisted living at Kingston of Sylvania. She was 75.
She had cancer for more than 18 months. She went to assisted living after a hospital stay in order to gain some strength and go home, where she most wanted to be, her daughter, Dena, said.
"She was an inspiration to many people," her daughter said. "She worked for the first year of her illness. She loved the people she worked with, and she loved her customers."
Her retail duties drew her from a family gathering during her last Thanksgiving evening.
"'‍I have to go to work. I'm on the schedule,'‍ " she said, her son Nick recalled. "And she went to work on Thanksgiving night at 8 o'clock, and she was glad she was doing it."
When Mrs. Mancy started at the department store, the Elder-Beerman name was still fairly new to Toledo, the retailer having taken over local stores operated by R.H. Macy & Co. in 1985.
"She loved clothing and shopping and style," her daughter said. Mrs. Mancy was in clothing sales, most recently in the "better sportswear" department.
"She had a lot of regular customers that would come in and see her," said son Nick, who got a fresh view of her life and her reach as he helped her get to appointments the last year.
"She was so spunky," he said. "She was so familiar with people from the get-go and had a way of putting people at ease. It was amazing how many lives she touched."
Outside work, she socialized with friends in the neighborhood and on the phone. She golfed for years and was poolside in the summer at her West Toledo home or in earlier years at Sylvania Country Club.
"She had to be surrounded by activity," her son Nick said.
She was born May 22, 1939 to Ruth and Michael Rahal and grew up on Maxwell Road. She was a 1957 graduate of DeVilbiss High School.
She and George Mancy married in 1962, and two years later he and his twin brother, John, took over management of the Phillips Avenue restaurant opened by their father, Gus.
"She worked Saturday nights at Mancy's when we were kids," her daughter said. "She looked forward to it. That wasn'‍t work to her."
Most nights, though, she was at home, caring for the children, as her husband helped run the restaurant.
"She was so independent, and I think we learned that from a very young age," said Nick, who is proprietor of the Mancy family's Shorty's True American Roadhouse. "She said what she felt, and she never had any regrets either."
Her son Mike, who manages Mancy's Steaks with his cousin Gus, learned from her steadfastness.
"She was one of those people, '‍This is going to get done my way,' " son Mike said. "It helps when you'‍re running a business to have a little bit of that in you."
She and George Mancy were married for 23 years when they divorced. He died Nov. 28, 1996.
Surviving are her sons, Michael and Nicholas Mancy; daughter, Dena Harding; brothers, Ronald and Richard Rahal, and seven grandchildren.
Visitation will be from 4-8 p.m. Thursday in the Walker Funeral Home, Sylvania Township, where funeral services will be at 11 a.m. Friday.
The family suggests tributes to the Victory Center in Sylvania Township or the Anne Grady Center in Spingfield Township.
Contact Mark Zaborney at: mzaborney@theblade.com or 419-724-6182.