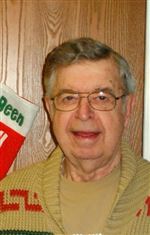 Ashley
OAK HARBOR — Harold V. Ashley, a retired high school biology teacher whose interest in the natural sciences — and the natural world — transcended classroom and laboratory, died Thursday in Otterbein-North Shore Retirement Village. He was 90.
He'd been in failing health, his son Chris said.
Mr. Ashley retired in 1989 from Oak Harbor High School, where he'd taught since 1963.
"Teaching just came naturally to him," his son said. "He loved showing people what he knew about things and trying to improve them.
"Once he got established at Oak Harbor, that was his mission and his life calling. He loved Oak Harbor and the school."
He taught biology, earth science, and general science. He played recordings of bird calls and expected students to be able to identify 30 of them. He led students on walks to collect and identify leaves.
"He was popular," said son Chris, a onetime student, as were Mr. Ashley'‍s son Charles and daughter Mary. "Most kids enjoyed that class. He made it fun."
Mr. Ashley's wife, Virginia, was a popular English and history teacher at Oak Harbor High who later served on the Board of Education. Holiday season conversations often turned to the current happenings of former students.
"They didn't want to talk about us," son Chris joked. "It was this kid or that kid.
"He really cared, and if a kid showed an ounce of enthusiasm, he would do everything to further that," son Chris said.
Charles McCurdy, a friend since 1950, said: "That's what delighted him: to see kids come to life in something in biology that he enjoyed."
Mr. Ashley was a member of the Black Swamp Bird Observatory. He and his wife traveled the world — the Galapagos, Alaska, Europe, and New Zealand.
He attended Ohio State University on the GI Bill and was pursuing a degree in engineering when he decided he wanted to major in biology and teach instead.
"That was a delight, because then I went out on field trips with him, identifying trees and flowers and plants," Mr. McCurdy said. "I decided to follow in his footsteps and go out of engineering."
Mr. McCurdy spent his career with the National Park Service.
"I wouldn't have wound up doing that if it hadn't been for him," Mr. McCurdy said.
The son of Dixie and Ernest Ashley, he was born May 28, 1924, in Canton. He was a graduate of McKinley High School and enlisted in the Navy during World War II.
He was a gunner aboard the USS Indianapolis. While the cruiser was in San Francisco for repairs after an enemy hit, he was assigned to another vessel. Not long after, on July 30, 1945, the Indianapolis was sunk by a Japanese torpedo. Of 900 who made it out and into the water, 316 were pulled from the water by rescuers several days later.
After graduating from Ohio State University, he taught at Ashland High School, where he met his wife. The couple married July 30, 1955. She died Feb. 9, 2007.
Surviving are his sons, Christopher and Charles Ashley; daughter, Mary Ashley, and eight grandchildren.
Visitation will be from 2-4 and 6-8 p.m. today in the Robinson-Walker Funeral Home, Oak Harbor, with funeral services there at 11 a.m. Monday.
The family suggests tributes to a scholarship to be named for Harold and Virginia Ashley that will benefit an Oak Harbor High School student.
Contact Mark Zaborney at: mzaborney@theblade.com or 419-724-6182.
Guidelines: Please keep your comments smart and civil. Don't attack other readers personally, and keep your language decent. Comments that violate these standards, or our privacy statement or visitor's agreement, are subject to being removed and commenters are subject to being banned. To post comments, you must be a registered user on toledoblade.com. To find out more, please visit the FAQ.