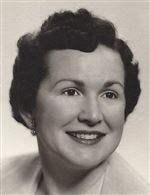 Poad
Flora Benton Poad, 92, supervisor of libraries in the Oregon City Schools, died Monday in her Oregon home. She was in declining health, daughter Lucinda said.
Mrs. Poad retired in her late 70s after about 15 years in the reference department of the University of Toledo libraries and several years as a Sylvan Learning Center tutor. For more than 30 years, she oversaw the budget and staff of libraries at Clay and Cardinal Stritch high schools, two junior highs, and Oregon elementary schools.
"She was very highly respected," said Don Charlton, who was principal of the former Wynn Elementary. "She was very dedicated to her children, to her staff, and to the system."
She was a former president of the Ohio Association of School Librarians.
At Faith United Methodist Church in Oregon, she helped prepare dinners for events and for Helping Hands of St. Louis in East Toledo. When homebound, she volunteered to send birthday cards to church members.
"It gave her something to do and kept her in touch with people," her friend Bev Lanning said. "She enjoyed helping people."
She was born Oct. 8, 1921, in Roanoke, Va., to Ethelind and Thomas Huff. She worked in her local public library at age 13.
She attended Radford University in Virginia and had a bachelor'‍s degree in education from Ohio University. According to a UT data base, she received a master of library science degree in 1964.
She married James Poad on June 6, 1986. He died May 7, 2009. She also was preceded in death by her former husband, the Rev. Stanley Benton, and daughter, Mary Jo Vaillant.
Surviving are her daughters, Peggy Benton, Betty Anne Aring, and Lucinda Schwenker; stepdaughter, Roxana Clark; sister, Fran Krammer; half brothers, Robert, Woody, and David Huff; three grandchildren; a stepgranddaughter; two great-grandchilderen.
Services will be at 10 a.m. Saturday in Faith United Methodist Church, where visitation is to begin at 9 a.m. Arrangements are by the Eggleston Meinert & Pavley Funeral Home, Oregon.
The family suggests tributes to the church.
Contact Mark Zaborney at: mzaborney@theblade.com or 419-724-6182.
Guidelines: Please keep your comments smart and civil. Don't attack other readers personally, and keep your language decent. Comments that violate these standards, or our privacy statement or visitor's agreement, are subject to being removed and commenters are subject to being banned. To post comments, you must be a registered user on toledoblade.com. To find out more, please visit the FAQ.