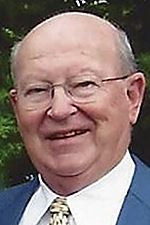 George F. Ackerman.
George F. Ackerman, the retired owner and president of a nursery, agricultural, and food-processing equipment company who was active in community groups in Oregon, died Saturday in his home. He was 83.
Mr. Ackerman of Oregon had Parkinson's disease, said his son, Paul Ackerman.
After high school, Mr. Ackerman began farming with his two brothers in Oregon, but eventually turned to agricultural spraying of vegetable crops, especially tomatoes, for local farmers.
In 1958, he started the George F. Ackerman Co., at his farm on Bury Road, where he sold spraying, irrigation, and fruit and vegetable-packing equipment. He expanded the business in 1969 to include equipment and machinery used in tomato harvesting.
"Before 1969 all tomatoes were picked by hand," his son said. "Then growers started using mechanical harvesters to pick all the tomatoes at one time."
Mr. Ackerman moved the business from Oregon to the former Stokely-Van Camp Inc. processing plant in Curtice, Ohio, in 1980.
In 1989, he expanded operations, launching Ackerman Industrial Equipment, which sells equipment for farming and growing operations as well as industrial and food processing use. Among its products are forklifts.
Both companies were eventually operated at the facility in Curtice, where the business operates today.
Paul Ackerman and two of his three brothers, Mark and Kurt, joined their father in the businesses. They took over operations after their father became less active about three years ago, he said.
Mr. Ackerman was active in vegetable-growing groups in Ohio, Michigan, and Indiana and received many awards through the years, including the Tomato Achievement Award in 1991, the H.D. Brown Food Processing Person of the Year in 1995, and Purdue University'‍s Romanowski Award for Cooperation and Excellence to the Mid-America Tomato Industry.
He was born on Aug. 20, 1931, on his family'‍s farm at Corduroy and Coy roads in Oregon. He graduated in 1949 from Clay High School, where he was active in what was then the Future Farmers of America and held office at district level for the youth organization.
He married the former Elaine Helmke on Oct. 10, 1953. She died on Feb. 4, 2013.
Mr. Ackerman was elected to the Oregon school board in 1959 and served as president from 1960 to 1961.
Mr. Ackerman said his father was community-minded and ran for school board because he wanted to help the school system.
He was a member of the Oregon Chamber of Commerce, serving as its president in 1976 and 1977.
Surviving are his sons Paul, Mark, Kurt, and Glen; sister, Ruth Cummerow; 11 grandchildren, and two great grandsons.
Visitation will be from 4 to 8 p.m. Wednesday and 2 to 8 p.m. Thursday in the Eggleston Meinert and Pavley Funeral Home, Oregon Chapel.
Services will be at 10:30 a.m. Friday in First St. John Lutheran Church where the family will greet friends beginning at 9:30 a.m.
The family requests tributes to First St. John Lutheran Church, Gideon's International, or First Alliance Church.
Contact Mark Reiter at: markreiter@theblade.com or 419-724-6199.
Guidelines: Please keep your comments smart and civil. Don't attack other readers personally, and keep your language decent. Comments that violate these standards, or our privacy statement or visitor's agreement, are subject to being removed and commenters are subject to being banned. To post comments, you must be a registered user on toledoblade.com. To find out more, please visit the FAQ.