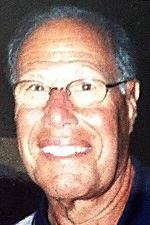 Robert Herman
L. Robert Herman of Ottawa Hills, a longtime local business owner whose sales tactics and kind personality helped him draw in lifelong clients, and who was known for always lending a hand to neighbors in the Exmoor development where he lived, died Aug. 31 in his home. He was 82.
He was diagnosed in January with bladder cancer, daughter Pamela Elliott said.
Mr. Herman was owner and president of Incentives for Industry, a specialty advertising and promotion company he purchased in 1975. He started with the company in its Cleveland office but moved to Ottawa Hills in 1965 to assume the role of vice president for the company, said his son, Rick Herman, who worked with his father at the former Secor Road business.
"Dad was the consummate salesman," his son said. "He believed in personal relationships with his clients, and to date, most of his clients are his friends. He was honest and had tons of integrity."
The elder Mr. Herman sold the company to his son in 1996 and retired in 1999. The company offered and sold products to more than 1,000 companies in northwest Ohio and throughout the United States.
"We don't pride ourselves on having the lowest prices in the area. There are other ingredients to a sale," Mr. Herman told The Blade in 1996. "The quality of the product and of the service is the most important thing."
Mr. Herman was born in Shaker Heights, Ohio, on Jan. 28, 1932, to Louis and Charlotte Herman.
A 1950 Shaker High School graduate, he attended Ohio State University, but he was involved in a serious car crash while a sophomore and had to be in a full body cast for a year, Mrs. Elliott said.
He never returned to school, and his girlfriend at the time, Dolores "Dee" Davis, left Ohio State and went to Cleveland to be with him, his daughter said. They married on Jan. 10, 1954. She died in April, 2009.
Mr. Herman served on several boards in the community, including as president of the Ottawa Hills Boosters Club, commissioner of Ottawa Hills Little League, and as a board member of the Jewish Federation Foundation.
The Hermans raised their family on Indian Road, and her parents built their dream house in the Exmoor subdivision in west Ottawa Hills in 1986, Mrs. Elliott said.
As president of the Exmoor Homeowners Association, he soon was given the unofficial title of subdivision mayor, said his daughter.
"He was calm and very kind, and people looked to him when they needed help," she said. "He took time for everybody."
Longtime friend Gordon Levine was one of the first people Mr. Herman met when he moved to Ottawa Hills.
"He was a gentle man who appreciated relationships," Mr. Levine said. "Bob was a man for all seasons, and I think everyone who met him enjoyed being an acquaintance or friend."
In his spare time, he loved playing golf and watching sports on television, never missing an Ohio State Buckeyes or Cleveland Browns football game, his son said.
He is survived by his daughter, Pamela Elliott; sons, Richard and Tom; brother, James; six grandchildren, and two great-grandchildren.
A memorial service will be at 1 p.m. Thursday at Temple Congregation Shomer Emunim, 6453 Sylvania Ave. The family will receive visitors on Thursday from 4 to 8 p.m. at Mr. Herman's residence.
The family suggests memorial contributions be made to the Temple Congregation Shomer Emunim Fund for the Future.
Contact Roberta Gedert at: rgedert@theblade.com or 419-724-6081.
Guidelines: Please keep your comments smart and civil. Don't attack other readers personally, and keep your language decent. Comments that violate these standards, or our privacy statement or visitor's agreement, are subject to being removed and commenters are subject to being banned. To post comments, you must be a registered user on toledoblade.com. To find out more, please visit the FAQ.