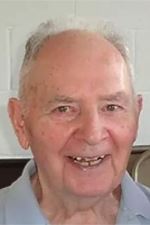 Rajner
Andrew Francis Rajner, Sr., whose three decades sailing the Great Lakes included a voyage aboard the Edmund Fitzgerald just before the freighter sank in Lake Superior in 1975, and who testified at a Coast Guard inquiry into the disaster, died Thursday at Kingston of Perrysburg.
Mr. Rajner, 89, suffered from Parkinson's and was under hospice care, said his son-in-law, J.P. Smith.
Until moving into Kingston three years ago, Mr. Rajner was a lifelong resident of East Toledo's Birmingham neighborhood.
Twelve of those 30 years were as captain for eight Oglebay Norton Co. freighters.
Mr. Rajner served on the Edmund Fitzgerald from Sept. 12 to Oct. 3, 1975.
His role on the Fitzgerald was relief first mate, a "junior spare parts" officer who filled in for the regular first mate, Mr. Smith said.
The Edmund Fitzgerald, the largest and fastest ship of its day on the Great Lakes, sank on Nov. 9, 1975, during a gale on Lake Superior. All 29 hands aboard were lost.
The following month he was called to testify in Cleveland before a Coast Guard maritime casualty inquiry. He was the highest ranking officer with the most recent experience aboard the doomed ship, his son-in-law said.
"He knew just about everybody on that ship," Mr. Smith said.
Mr. Rajner was born in Toledo on Sept. 16, 1925, to Peter and Mary Rajner. He left Waite High School at age 16 in 1942 to serve as a deck hand and within a year joined the Merchant Marine, sailing in the Pacific Ocean supplying war materiel.
His post-war service in the Merchant Marine was sailing to Europe to repatriate German and Italian prisoners of war and to bring U.S. servicemen back home.
After his discharge, he returned to Toledo. He worked two years for Shortway Bus Lines, meeting his wife-to-be, Esther, whom he married on June 21, 1947.
He left the bus company in 1949 to work at the Gulf Oil refinery.
From 1952 until 1957, he was employed at the Libbey-Owens-Ford Co. glass plant.
When automation led to his layoff, he returned to sailing. He joined Oglebay Norton in 1957.
He attended navigation school in Cleveland, becoming a first class pilot who was qualified for all five Great Lakes.
He earned licenses as third, second, and first mates.
In 1976, a year after the Fitzgerald's sinking, he received his master's or captain's license.
He retired in December, 1987, at the end of the shipping season, with 30 years, 8 months with Oglebay Norton, Mr. Smith said.
He held command of eight ships, all of which called regularly at the Port of Toledo, Mr. Smith said. He ended his service on the Fred R. White.
A fellow Oglebay Norton skipper, Mike Capser, recalled attending winter meetings of ships' captains with Mr. Rajner.
Mr. Rajner had a reputation as a stern skipper "who followed the rules," he said.
Although the two skippers never served together, they became friends on the golf course and from bowling leagues, Mr. Capser said.
"He was a pretty good golfer," Mr. Capser said. "He was always a good companion."
Mr. Rajner and Mr. Capser frequently would golf with other ships' captains in a league at Collins Park Golf Course, a layout not far from the East Toledo docks where their ships were berthed.
In 1991, Mr. Rajner was inducted in the Birmingham Hall of Fame for his support of the neighborhood and for his involvement with his longtime parish, Holy Rosary Catholic Church.
When Holy Rosary was closed, he joined St. Ignatius parish.
He was a retired member of the International Ship Masters Association.
Fishing was a favorite pastime, and he along with family and friends would often take a boat on Lake Erie.
He built an ice boat that he raced on Hecklinger Pond, where he also ice skated, fished, and swam as a boy, he reminisced to a reporter in 1998.
He was preceded in death by infant twin daughters Mary Jean and Mary Jane Rajner; daughter Janice Fuller; and brothers Edward Danko, Frank Kislin, and Joseph, George, and Albert Rajner.
Mr. Rajner is survived by his wife of 67 years, Esther; daughter Diane Smith; sons Andrew Jr.; David and Allen Rajner; 16 grandchildren, 22 great-grandchildren, and a great-great-grandchild.
His funeral will be at 11:30 a.m. today at Eggleston Meinert & Pavley Funeral Home, Oregon Chapel, 440 S. Coy Rd.
Memorials are suggested to St. Ignatius Catholic Church or Hospice of Northwest Ohio.
Contact Jim Sielicki at: jsielicki@theblade.com or 419-724-6050.
Guidelines: Please keep your comments smart and civil. Don't attack other readers personally, and keep your language decent. Comments that violate these standards, or our privacy statement or visitor's agreement, are subject to being removed and commenters are subject to being banned. To post comments, you must be a registered user on toledoblade.com. To find out more, please visit the FAQ.