John Shuff (1933-2015): Letter carrier set trends with work ethic, style
5/23/2015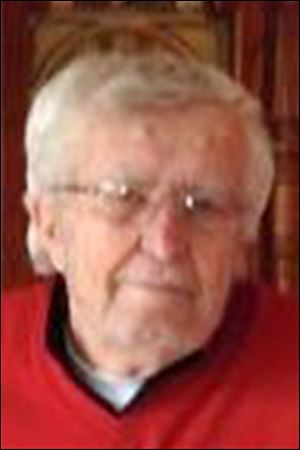 John Shuff
John Shuff, a 30-year U.S. Postal Service letter carrier who once completed his deliveries even after an Alaskan earthquake destroyed his route, died Friday in the Hospice of Northwest Ohio, Perrysburg Township. He was 82.
Mr. Shuff succumbed to cancer, said his wife, Mary Lou.
While he worked most of his mail-delivering career in his Toledo hometown, Mr. Shuff's first postal-service job was in Anchorage, where he was stationed when a 9.3-magnitude earthquake struck on March 27, 1964 — Good Friday, his wife recalled.
He had completed his deliveries that day before the temblor hit, but despite its massive damage — the quake is the second strongest ever recorded — Mr. Shuff set out along his devastated route on following days and, for his dedication, received a superior-service award for "going beyond the call of duty," Mrs. Shuff said.
Mr. Shuff pinned the award to the lapel of every suit he wore thereafter.
"More than half of his route was gone," she said of the aftermath. "He went out to do what he could."
And while the Shuffs didn't make it to church that Good Friday, they were in the pews for Easter Sunday, she added.
Two weeks after they married on Oct. 18, 1958, Mr. Shuff moved to Alaska and saved enough of his wages to buy the ticket for her to join him. There, they welcomed four of their five children there before moving six years later back to Toledo, where he dedicated himself to his family, his work, and the Democratic Party.
"I tell everybody that I meet that my life has been a journey," Mrs. Shuff said. "It's been a good one. He's always kept things interesting."
Born March 2, 1933, in Toledo to Harvey and Goldie Shuff, he worked nights at the Willys Jeep plant while a student at Woodward High School. Before moving to Alaska, he spent time on a dude ranch in Montana. Back in Toledo, he was recording secretary for the local postal workers' union.
Celine Collins, one of his two daughters, said he provided an example of a strong work ethic for his children and grandchildren.
"He showed us a sense of work," she said. "To do your job well, to respect your co-workers and the employers."
He was Toledo's first mail carrier to wear shorts on his route, his daughter said. A 1973 photo in The Blade shows Mr. Shuff out on his East Toledo route, donning the newly sanctioned leg wear.
Mrs. Collins said her father was active in his grandchildren's lives and was proud to see several graduate from college.
"He truly enjoyed the pleasure of being a grandpa," she said.
Mr. Shuff organized regular family reunions for siblings and relatives who lived out of state.
He was known to local politicians, neighbors, and people on his route as "John the Mailman."
Mrs. Collins said it wasn't uncommon to see union members and politicians around her parents' kitchen table, including U.S. Rep. Marcy Kaptur (D., Toledo) during her first run for Congress.
He is survived by wife, Mary Lou Shuff; sons, Charles and Gibson Shuff; daughters, Geniece Schaber and Celine Collins; brothers, Richard and William Shuff; sister, Mary Ellen Simon; six grandchildren, and five great-grandchildren. He was preceded in death by a son and a grandson.
Visitation will be held from 4 to 8 p.m. Tuesday at Freck Funeral Chapel, 1155 S. Wynn Rd., Oregon. Funeral services will begin at 11 a.m. Wednesday in the mortuary.
The family suggests memorial tributes to Hospice of Northwest Ohio.
Contact Lauren Lindstrom at llindstrom@theblade.com, 419-724-6154, or on Twitter @lelindstrom.