Merritt W. Green II, a retired lawyer who spent his 50-year legal career representing unions and civil rights groups, died Saturday at his home in Traverse City, Mich. He was 85.
He died from renal failure, said his wife, Patti Green.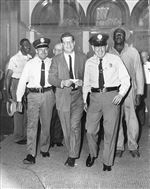 Lt. Eugene Nusbaum, left, and Deputy Leo Lehman escort Merritt W. 'Tim' Green II after he was fined and jailed for contempt of court in 1960. Mr. Green died Saturday at his home in Traverse City, Mich., at the age of 85.
THE BLADE
Enlarge | Buy This Image
Mr. Green, who went by Tim, was a partner in several law firms during his 25-year career in Toledo.
He moved to Traverse City in 1990 and continued practicing law with civil rights attorney and activist Dean Robb. He retired about 10 years ago.
He was among a group of lawyers and others who founded Advocates for Basic Legal Equality in 1968, and served on the organization's board of director for many years.
R. Michael Frank, an attorney who was ABLE's first executive director, said Mr. Green's down-to-earth personality and sense of humor in the courtroom appealed to jurors.
"Timmy was genuine. He was Joe Six-Pack in a business suit, and he hardly ever wore a business suit," Mr. Frank said.
"He was not elite and pompous," Mr. Frank said. "He was the opposite. He was the guy who the jurors would want to have a beer with after a courtroom experience."
Mr. Green's clients included unions representing city of Toledo employees, United Auto Workers, Retail Clerks' Association, U.S. Steel Workers, Marine Engineers' Beneficial Association, and Teamsters. He also represented plaintiffs in personal injury cases.
"He was so unpretentious. He was really extraordinary as a trial lawyer," said attorney Robert Kaplan. "He defied every convention. His clients were his friends."
Jon Richardson, a criminal defense attorney, said he had a genuine concern for clients.
"He saw to the task of representing people who needed to be defended against the powers that be," he said. "Timmy was really a giant around here in the legal community. Timmy could make the ground shake. You didn't want to be in trial against him. When he went into the courtroom, you better step aside."
In 1960, Mr. Green, who was representing the striking International Longshoremen's Association, was held in contempt by a Lucas County Common Pleas judge for advising his clients to ignore the judge's order prohibiting picketing at a shipping dock.
Represented by his father, Merritt Green, Mr. Green appealed the contempt conviction to the U.S. Supreme Court, where it was overturned in May, 1962.
Mr. Green practiced with his father's firm, DiSalle, Green & Haddad. He joined Gerald Lackey to form Green& Lackey in the 1960s, and expanded the practice by 1978 to Green, Lackey, Nusbaum, Phillips & Harris.
He left the firm in 1982 to establish a new firm that included his father, Merritt Green, his son, Merritt Green, III, John Weglian, James MacHarg, William Skow, and Thomas Ludlow Ashley, who was a former U.S. representative.
"Timmy was very loyal to his clients. He went out on a limb in his representation of labor. He never lost that close relationship to labor," said Mr. Weglian.
Mr. Green graduated in 1956 from the University of Michigan Law School. He also earned an undergraduate degree from Michigan, where he was a defensive end on the football team and captain of the 1952 team.
He was on the Wolverine squad that defeated California in the Rose Bowl on Jan. 1, 1951. He also played in the "Snow Bowl" against Ohio State University earlier that season when the game was held in blizzard conditions. UM won the contest, 9-3.
He was born on Dec. 30, 1930, to Martha Dern and Merritt Green. He graduated from DeVilbiss High School in 1948 and attended Staunton Military Academy in Virginia for one year.
Mr. Green was among local lawyers who traveled to Alabama and Mississippi in the mid 1960s during the Civil Rights movement to challenge voting restrictions for African-Americans.
"He also helped a group that was trying to set up a farm cooperative," said Mr. Kaplan, who joined Mr. Green on the campaign in the South.
Surviving are his wife, Patti; sons, Merritt W. Green III and David Green; daughter, Sue Beckler, and six grandchildren.
Memorial services are planned for the summer in Toledo and Traverse City.
Coyle Funeral Home is handling arrangements.
Memorial contributions are suggested to Advocates for Basic Legal Equality, 525 Jefferson Ave.
Contact Mark Reiter at: markreiter@theblade.com or 419-724-6199.
Guidelines: Please keep your comments smart and civil. Don't attack other readers personally, and keep your language decent. Comments that violate these standards, or our privacy statement or visitor's agreement, are subject to being removed and commenters are subject to being banned. To post comments, you must be a registered user on toledoblade.com. To find out more, please visit the FAQ.