Thomas A. Santoro, who spent decades teaching high school students on the football field and in the classroom at Central Catholic High School, died in a traffic accident May 20 while on vacation in Los Angeles. He was 65.
Mr. Santoro was struck by a vehicle while riding a bicycle.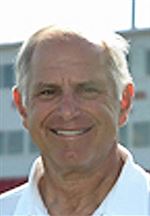 Santoro
Known as kind and gentlemanly, he was a mentor to many students, players, and coaches. He served for more than three decades as a football coach and teacher in Toledo, 29 of those years at Central Catholic. He was a sounding board, a confidant, and the life of the party, those who knew him said.
"Everybody loved him," current Central coach Greg Dempsey said. "But he took the role as a father figure and mentor very seriously with his players."
Born Oct. 23, 1950, in Toledo, he attended Holy Rosary School, Cardinal Stritch High School, and the University of Toledo. He started his career at Cardinal Stritch, becoming an offensive line coach in 1974.
After a short stint at Tiffin Columbian High School, he began his lengthy career at Central Catholic in 1982.
"Even at age 10 I thought about coaching football," he said when he was retiring. "I guess I always wanted to be a football coach from the start."
He served a variety of roles as both a teacher and a coach, including teaching English, being the senior class adviser, special teams coordinator, offensive line coach, and from 1994 to 1999, head coach.
After his time leading the team, he moved back to an assistant role with the offense. He enjoyed being head coach, but was relieved to go back to his passion.
"He was so happy the day he became assistant coach again, because he could be with the kids again," said his wife, Susan Santoro.
Mr. Santoro, or "T" as friends called him, was a "committed bachelor," as his wife put it, until the pair met in the summer of 1995 at a Toledo Club Party in the Parking Lot. Both loved the freedom of their single lives, but found that they truly completed each other, Mrs. Santoro said. They were engaged in February, 1997, and married June 20, 1998.
Herself a school administrator, Mrs. Santoro recognized the time demands of being a teacher and coach.
"I married him as a head coach, so I knew what I was getting into," she said.
Mr. Santoro didn't need the limelight, and enjoyed the grunt work of developing offensive linemen and helping to build them into men. He was selfless, friends said, and made sure others got credit.
The year after he stepped down from head coaching and Mr. Dempsey took over, Central Catholic defeated St. John's Jesuit for the first time in 11 years.
The players carried Mr. Dempsey off the field. Only now has Mr. Dempsey learned it was Mr. Santoro who told the players to do that.
"That is how selfless of a person he is," Mr. Dempsey said. "His only care that night was that I got credit."
In 2005, the team won a state championship, and Mr. Santoro often wore his championship ring. Mr. Santoro retired from teaching and coaching in 2011 after a 36-year career, the same year as his wife.
The Santoros loved retirement, traveling to Alaska and Europe and regular trips to Hawaii and California. Mr. Santoro took up bicycling, both for the exercise and because it gave him time to think. He anguished over days when he couldn't ride, his wife said.
The pair bought season tickets to Central Catholic football games, and the purchase included gold name plates for their seats. Mr. Santoro hardly ever sat in his seat, because he was busy volunteering with the team. He had told family that after he died he wanted them to continue to purchase the tickets so that his name remained there.
Every morning, Mr. Santoro would read the obituaries to see if there was any name he recognized. He'd go to the funeral of the grandparents of former students, or others he had not seen for years.
"He taught me that you have to care about other people," his wife said.
Surviving are his wife, Susan, and sister, MaryElyse Stickel.
Visitation will be Friday from 4 to 7 p.m. at Eggleston-Meinert & Pavley Funeral Home, Oregon. A celebration of life service will begin at 1 p.m. Saturday in the Sullivan Center of Central Catholic, with the family greeting friends starting at 11:30 a.m. Attendees are requested to wear Aloha attire.
The family suggests tributes to the Ride of Silence through the We Are Traffic organization, Central Catholic's football program, and the Maumee-Bowling Green Elks Scholarship Fund.
Contact Nolan Rosenkrans at: nrosenkrans@theblade.com or 419-724-6086, or on Twitter @NolanRosenkrans.
Guidelines: Please keep your comments smart and civil. Don't attack other readers personally, and keep your language decent. Comments that violate these standards, or our privacy statement or visitor's agreement, are subject to being removed and commenters are subject to being banned. To post comments, you must be a registered user on toledoblade.com. To find out more, please visit the FAQ.