Maj-Britt I. Napp, 85, who moved to Toledo from Sweden in her early 20s and spent years active in community service and promoting her Scandinavian heritage, died Friday.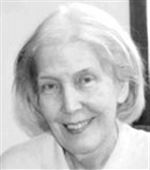 Napp.
Mrs. Napp had resided at Kingston Residence of Sylvania and had Alzheimer's disease for several years, her son, John Napp, said.
She was born to Elly and Nils Eskil Hoglund in Umea, Sweden, on Aug. 23, 1931.
In her early 20s she left her hometown in northern Sweden for the United States. Described by her family as independent and hard-working, she arrived knowing some English from school in Sweden but little about her new country.
"She came by boat with two pieces of luggage and that was it," her son said.
Before her arrival in the United States, she was a secretary for the police department in Umea.
Because female employees were rare, she occasionally had to make trips to Stockholm to transport female prisoners, her son said.
Had she remained in Sweden, she had planned to apply for the police academy.
Instead, she passed through New York and was connected with the family of W.W. Knight to be their nanny, her son said, then later joined Libbey Owens Ford as a clerk.
"She didn't know anything about Toledo but she came here," Mr. Napp said. "She wasn't afraid of adventure or a challenge."
She met her future husband, Charles S. Napp, at a young adults group at Collingwood Presbyterian Church in Toledo.
They were married at the church Dec. 5, 1953. Mr. Napp, a salesman for Toledo Scale Corp., died in 2003.
She taught Sunday school at the church, was active in the Lincoln League service organization, and president and a 50-year member of the PEO Sisterhood, a philanthropic group that works to increase educational opportunities for women and girls.
Financial hardship after her father died inspired her dedication to service, Mr. Napp said.
"Things were hard for her and her mother, but her mother worked very hard and gave her a lot," he said. "I think that made her want to be involved in the community."
At age 50, she enrolled in the University of Toledo Community and Technical College to pursue an associate's degree in nursing.
After receiving her degree, she worked in hospitals and several area nursing homes for a decade. Her return to school was sparked by her interest in the health-care field and a desire to increase the family's financial stability, her son said.
She and her husband enjoyed travels around the United States, the Caribbean, and Europe, including visits to her native Sweden.
Mrs. Napp kept her Swedish heritage alive with music, traditional pickled herring and cookies at Christmas, and by telling stories about her childhood, including watching Northern Lights and skiing through town when the snow piled high.
She was active in the Scandinavian Club of Toledo and participated in its monthly dinners and educational events.
Surviving are her son, John; daughter, Elisabeth Gilbard, and four grandchildren.
Visitation will be at 9 a.m. Sept. 17 at the Reeb Funeral Home, 5712 N. Main St., Sylvania, followed by the funeral at 10 a.m. The family suggests tributes to the Alzheimer's Association of Northwest Ohio.
Contact Lauren Lindstrom at llindstrom@theblade.com, 419-724-6154, or on Twitter @lelindstrom.
Guidelines: Please keep your comments smart and civil. Don't attack other readers personally, and keep your language decent. Comments that violate these standards, or our privacy statement or visitor's agreement, are subject to being removed and commenters are subject to being banned. To post comments, you must be a registered user on toledoblade.com. To find out more, please visit the FAQ.