ELMORE — James W. Damschroder, 79, an Air Force and commercial airline pilot who became a birder and a dedicated friend of Magee Marsh, died Oct. 26, in his Elmore home.
He learned six months ago that he had amyloidsis, a condition in which proteins accumulate in tissue and organs, his wife, Dorothy, said.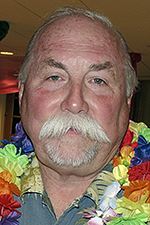 Damschroder
THE BLADE/ANDY MORRISON
Enlarge | Buy This Image
Mr. Damschroder retired at age 60 in 1998, as mandated, from Trans World Airlines. He flew Boeing 727s on domestic flights after his 1965 discharge from the the Air Force. He was based at Kansas City International Airport until 1974, and his family relocated to the area. Afterward, he flew out of St. Louis.
The family returned to Elmore, and he drove to Detroit Metropolitan Airport to get to St. Louis for his flight schedule.
"He liked getting on an airplane and saying, 'This is your captain,' " his wife said.
Born April 13, 1938, in Fremont to Mary and Wilson "Cookie" Damschroder, he grew up on the family farm near Lindsey, Ohio. He was a 1956 graduate of Gibsonburg High, where he met his wife. At Ohio State University, he received a bachelor of science degree in agriculture.
"He was in ROTC. That helped pay for his school. He got his wings through ROTC," his wife said.
He flew C-124 cargo transports, with stops that included Iwo Jima, Guam, Vietnam, and Japan.
After his TWA career, he did not pilot another airplane. He did become a follower of winged — and feathered — creatures, particularly at Magee Marsh on the Lake Erie shore, known as a prime springtime stop for migrating songbirds.
He was a member, volunteer, and former officer of Friends of Magee Marsh.
Mr. Damschroder and his wife in 1989 bought Beth Allen's Florist in Oregon. They sold the business in 2011.
In the 1980s and '90s, he was a volunteer for track and cross country events at Woodmore High School.
Surviving are his wife, the former Dorothy Marshall, whom he married in May, 1957; sons, Doug and Jeff; daughters, Amy Cuzzupoli and Leslie Damschroder; brothers, Scott and Dennis, and seven grandchildren.
Visitation will be from 2-8 p.m. Monday at Crosser Funeral Home, Elmore-Genoa Chapel. Services will be private. The family suggests tributes to Friends of Magee Marsh or any wildlife organization.
Contact Mark Zaborney at mzaborney@theblade.com or 419-724-6182.
Guidelines: Please keep your comments smart and civil. Don't attack other readers personally, and keep your language decent. Comments that violate these standards, or our privacy statement or visitor's agreement, are subject to being removed and commenters are subject to being banned. To post comments, you must be a registered user on toledoblade.com. To find out more, please visit the FAQ.