Fred H. Hall, 86, a longtime businessman who owned a barbershop and later merchandise and distribution companies in the Toledo area, died Nov. 7 at Hospice of Northwest Ohio in Perrysburg.
He had been diagnosed with kidney cancer six years ago and it returned three years ago, said his daughter, Margo Leininger.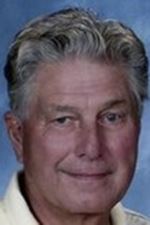 Hall
He was born Feb. 12, 1931, to Newell and Lucella Hall in Sylvania and graduated from Sylvania Burnham High School in 1949. The next year he got his barber's license and would own a barbershop for 14 years, first near Central and Detroit avenues and then on Sylvania Avenue.
He married the former Eleanor Wefer on Aug. 30, 1952, after the pair met while he was a draftsman for Toledo Edison and she worked for Toledo Memorial Park at its downtown office in the same building.
Mr. Hall never finished a business degree at Toledo University — just one of very few regrets, his daughter said — but he started several businesses and side projects, anything to make extra money to support his family.
"He didn't have very much when he was growing up, so making a nice stable home for his family was really important to him," she said.
His last venture was the Fred H. Hall Co., a manufacturer representative and industrial distributor company, which he sold at age 65 when he retired. He served in the Naval Reserve for seven years.
Outside his business pursuits, Mr. Hall loved music, fishing, flying, and time at the family's cottage in Black Lake in northern Michigan.
"He had a sense of adventure," Mrs. Leininger said. "He was not afraid to try things and he was encouraging to my sister and me to try things, too."
That included a spring break trip to Florida in the single-engine Cessna 172 plane for which he had only recently gotten a pilot's license. Mrs. Leininger, who was a young teenager at the time, said she loved it, though her mother and sister were less thrilled about the idea.
"He had a real zest for life," she said.
Andrew Leininger recalled his grandfather always had a project, whether it be model airplanes in various stages of completion during the winter months or working on anything that needed fixing around the house.
"He was an incredible man to grow up around," he said. "It seemed like anywhere he took me was a workshop of some sort ... hammering nails or tinkering with motors. We learned to water ski on wooden skis he made himself."
Surviving are his wife; daughters Margo Leininger and Leslie Watza; sister, Margaret Schultz, five grandchildren, and one great-granddaughter.
A funeral service will be at noon Monday at Sylvania United Church of Christ, 7240 Erie St., Sylvania. Family and friends will then gather at Sylvania Country Club, 5201 Corey Road, Sylvania.
The family suggests tributes to the church, the American Cancer Society, or Hospice of Northwest Ohio.
Contact Lauren Lindstrom at llindstrom@theblade.com, 419-724-6154, or on Twitter @lelindstrom.
Guidelines: Please keep your comments smart and civil. Don't attack other readers personally, and keep your language decent. Comments that violate these standards, or our privacy statement or visitor's agreement, are subject to being removed and commenters are subject to being banned. To post comments, you must be a registered user on toledoblade.com. To find out more, please visit the FAQ.