Katherine E. Myers, respected as a Spanish teacher and language department chairman at Southview High School whose 42-year tenure in the Sylvania schools led to instant recognition most places in the community, died Wednesday in Heartland at ProMedica Flower Hospital, Sylvania. She was 68.
She'd been dealing with ovarian cancer since March, 2014, said her husband, Joe Myers. She became ill in late October, a day after leading schoolchildren on a tour of the Toledo of Museum of Art, where she was a docent.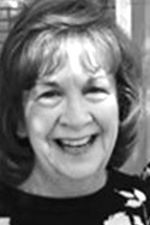 Myers
Mrs. Myers retired in 2012 after 28 years at Southview, where she taught, led the foreign language department, and was student senate faculty sponsor.
"She was always supportive," said Kay Holt, who started teaching Spanish at Southview in 1987. "She had the good of the students, the good of the school system, the good of the department always on her mind in everything she said and did and believed.
"She was such a wonderful teacher, and the kids knew she wanted them to succeed and cared about them," said Mrs. Holt, a Spanish teacher since 2013 at McCord Junior High.
As a department head, Mrs. Myers had a say in curriculum and hiring.
"Her first love was the classroom," said her husband, a retired guidance counselor in the district who had been Southview's orchestra director. Mrs. Myers taught from 1970 to 1984 at Arbor Hills Junior High.
Former students stopped and greeted her most places she went — stores, restaurants.
"It's really rewarding," her husband said.
Her sister Peg Hinds added: "She was never one who liked the limelight.
"Internally, she was glad she made a difference. Any recognition she got she downplayed," said Mrs. Hinds, who retired as a Northwood High School Spanish teacher. "She's the one who taught me how to be a Spanish teacher. She was my big sister, and I always admired her."
She was born Dec. 17, 1948, in Defiance to Barbara and Raymond Zuercher. Her father's career as a music teacher eventually brought him to the Toledo Public Schools and the family to the big city.
Mrs. Myers was a 1966 graduate of Start High School and a 2017 inductee to the Start Hall of Fame.
"She went to the University of Toledo to be a pharmacist," her husband said. "She was doing well, but everything was science. There was no education in the arts and good authors and history. She wanted a well-rounded education."
She was good at Spanish and so adjusted her studies to become a Spanish teacher, her husband said. She became president of her sorority, Delta Delta Delta, and was editor-in-chief her senior year of the Blockhouse, the UT yearbook. She was a 1970 graduate.
She was a member of St. Michael's in the Hills Episcopal Church, where she sang in the choir with her husband.
Surviving are her husband, Joseph Myers, whom she married Dec. 27, 1972; sons, Thomas and Matthew Myers; daughter, Rebecca Koike; brother, Ken Zuercher; sisters, Peggy Hinds and Sarah Rockwell, and five grandchildren.
Visitation will be from 2-8 p.m. Tuesday at the Walker Funeral Home, Sylvania Township. Services will begin at 11 a.m. Wednesday in St. Michael's in the Hills Episcopal Church, Ottawa Hills, where the family will greet guests after 10 a.m.
The family suggests tributes to the Ovarian Cancer Research Fund Alliance, ocrfa.org.
Contact Mark Zaborney at mzaborney@theblade.com or 419-724-6182.
Guidelines: Please keep your comments smart and civil. Don't attack other readers personally, and keep your language decent. Comments that violate these standards, or our privacy statement or visitor's agreement, are subject to being removed and commenters are subject to being banned. To post comments, you must be a registered user on toledoblade.com. To find out more, please visit the FAQ.