Ann Lammers Lasek, who became a physician and child psychiatrist in an era when few women were either, died Tuesday in Brookdale Bowling Green senior community, where she'd been since July. She was 90.
Dr. Lammers, a longtime West Toledo resident, died of complications from heart failure, and she had Alzheimer's disease, her daughter, Marja Lasek-Martin, said.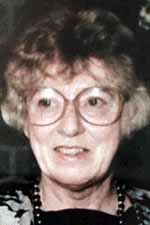 Lasek
"She was regarded with respect," said Dr. Joel Zrull, a retired Medical College of Ohio psychiatry department chairman. "She was a good psychiatrist, and she was one of the first women in the field."
Dr. Lammers remained in practice until about 11 years ago.
"She really loved practicing medicine," her daughter said. "There are things she saw in kids she found absolutely delightful and could spend hours watching kids."
She observed how children and their parents interacted. She would say a child's screams in a quiet church could mean "'they're testing the sound, they're testing the environment,'" her daughter recalled.
She and her late husband, Dr. Konrad Lasek, a native of Poland, had a practice for years on Lagrange Street, a largely Polish-American neighborhood. He was an obstetrician and gynecologist. She saw patients from 4 years old into adolescence. Some had depression and school-related phobias, her daughter said. Some had been bullied or sexually abused.
She was born Jan. 24, 1927, in Norfolk, Neb., to Mary and Paul Lammers. She received a bachelor's degree from Duchesne College in Omaha, and her medical degree from Creighton University in Omaha, where she was one of two women in her class, she told The Blade in 1974.
She went into medicine with the goal of being a psychiatrist, she told The Blade.
"When I was an intern, I decided definitely that surgery was not for me," she said then. "The tremendous number of hours led me away from general practice."
She had an internship at St. Francis Hospital, Evanston, Ill., a residency in psychiatry at the state hospital in Ypsilanti, Mich., and received a fellowship to the University of Pittsburgh.
"She was damn good," said Sallie Churchill, a friend of more than 50 years who was a social worker in Pittsburgh when they met.
"She had a nice balance of intellectual curiosity and compassion," said Ms. Churchill, a retired professor of social work at the University of Michigan. "Working with kids and working with parents, all of whom are hurting, is a very difficult job.
"We were both so interested in the child aspect of treatment, it fell naturally that we became close as colleagues and became close friends," Ms. Churchill said.
They went on rock-climbing and caving adventures and traveled widely, most recently to Mexico three years ago.
Dr. Lammers, board certified in psychiatry and child psychiatry, was a distinguished life fellow of the American Psychiatric Association. She'd been on the staff of Mercy Health St. Vincent Medical Center.
Her husband died Jan. 20, 2004. Surviving are her daughter, Marja Lasek-Martin, and brother, Edward Lammers.
Visitation will be from 1 to 6 p.m. Sunday in the Ansberg-West Funeral Home, with a recitation of the Rosary at 5 p.m. Funeral services will be at 11 a.m. Monday at Gesu Church, with visitation after 10 a.m.
The family suggests tributes to the Alzheimer's Association Northwest Ohio Chapter or the Mercy Health Foundation of Greater Toledo.
Contact Mark Zaborney at mzaborney@theblade.com or 419-724-6182.
Guidelines: Please keep your comments smart and civil. Don't attack other readers personally, and keep your language decent. Comments that violate these standards, or our privacy statement or visitor's agreement, are subject to being removed and commenters are subject to being banned. To post comments, you must be a registered user on toledoblade.com. To find out more, please visit the FAQ.