The business and civic leaders, the luminaries in sports, the arts, and the culture who died in 2017 shaped history, often well beyond northwest Ohio.
Here are some of those The Blade wrote about this year.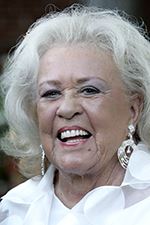 Fox
THE BLADE/DAVE ZAPOTOSKY
Enlarge | Buy This Image
Mary Lou Fox dazzled in business and fund-raising and built a pharmaceutical supply firm for nursing homes into a multimillion-dollar success. The 1990 northwest Ohio entrepreneur of the year threw themed parties besides, drawing raves and patrons. Mrs. Fox, 85, died Jan. 3.
Darrell Ducat owned bowling centers equally hospitable to casual keglers and after-work leagues and to championships that drew the biggest names in the sport — televised nationally from his Imperial Lanes during the 1980s and '90s and then his Southwyck Lanes. As a hotelier, his properties included the former Clarion Westgate. Mr. Ducat, 91, died Feb. 14.
David Yorko of Rossford left school at 17 to play guitar with friends in a rock band. The group became Johnny & the Hurricanes and won enduring fame for instrumental tunes, especially "Red River Rock" and "Beatnik Fly." Mr. Yorko worked for three decades at the Libbey-Owens-Ford Co. — and still got fan mail. Mr. Yorko, 73, died Feb. 17.
William W. "Bill" Boeschenstein led the company founded by his father, Harold — Owens Corning as it is now known — through growth and challenges and as the instantly recognizable Pink Panther cartoon character became the symbol of OC's fiberglass insulation. He also steered the Fortune 500 firm through a hostile takeover attempt. In the community, he was board chairman of the Toledo-Lucas County Port Authority and served on the boards of the Toledo Symphony and the Toledo Museum of Art. Mr. Boeschenstein, 91, died Feb. 25.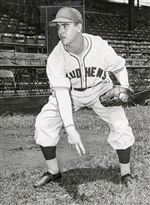 Ned Garver pitched for the Toledo Mud Hens and, in the ma­jor leagues, against the greats of his era — Ted Wil­liams, Joe DiMag­gio, Stan Mu­sial. He died at age 91 on Feb. 26.
The BLADE
Enlarge | Buy This Image
Ned Garver pitched for the Toledo Mud Hens and, in the major leagues, against the greats of his era — Ted Williams, Joe DiMaggio, Stan Musial — and buoyed his cellar-dwelling St. Louis Browns, winning 20 games in a season as the team lost more 100. He also played for the Detroit Tigers, the Kansas City Athletics, and the Los Angeles Angels. Home was the Williams County village of Ney, where he served on council and as mayor. He retired as personnel director of Dinner Bell Foods in Defiance. Mr. Garver, 91, died Feb. 26.
John F. Meier led Libbey when the glass and tableware maker was a division of Owens-Illinois Inc., and into independence and global growth as Libbey Inc. He was the longest-serving chief executive of any local publicly traded company when he retired. Mr. Meier, 69, died March 2.
Pastor Karen Shepler served United Methodist congregations but received wide respect for battling racism through ministry and through activism. She founded Dialogue to Change, a program that encourages small groups to meet and talk, but also to devise plans addressing race and inequality. Pastor Shepler, 65, died March 10.
David Steadman led the Toledo Museum of Art for a decade, retiring in 1999, but kept in mind such forebears as longtime director Otto Wittmann and glass giant and museum founder Edward Drummond Libbey. Under his watch, the museum's The Age of Rubens exhibition attracted more than 230,000 visitors. In retirement, he was ordained as a deacon in the Episcopal Church. Mr. Steadman, 80, died March 11.
John Greer Hunter received wide recognition in Wyandot County, most often as "Judge Hunter" for 23 years served as a Common Pleas Court judge. Millions worldwide recognized his courtroom, which was used in the film the Shawshank Redemption. Its classic decor, the chandelier hanging from a stained-glass dome, caught the attention of a producer. In the movie, an actor played the judge. Judge Hunter played a juror. He died March 27 at age 78.
Joan Siegel Katz had a long record of community service, but as a UT trustee, she took part in the selection of two university presidents: James McComas in 1985 and Frank Horton in 1988. She was known as a voice for students during her nine-year term. Mrs. Katz, 82, died April 7.
Kenneth E. DeShetler made his first law office at his father's East Toledo business, DeShetler Heating. He became chief city prosecutor, and was elected a judge of Toledo Municipal Court. Gov. John J. Gilligan appointed Mr. DeShetler state insurance director. He left office with the incoming Rhodes administration and became an executive with Nationwide Insurance Cos. Regular return visits to Toledo followed his 1988 appointment as a Medical College of Ohio trustee. Mr. DeShetler, 88, died April 10.
J. Ronald Bowman had dual careers, as a lawyer and then judge for nearly 20 years of Lucas County Common Pleas Court, and as an officer in the Ohio Army National Guard. He enlisted in the Army at age 18 and served in the Korean War — "the coldest war and the forgotten war," as he once wrote. He became the first service member from northwest Ohio to be inducted into the Ohio National Guard Military Hall of Fame. He served in each Army rank during his military career. Judge Bowman, 86, died April 21.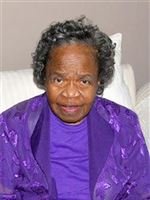 'Purple Lady' Rachel Ann Presha told a daughter she left Virginia for Toledo because it was 'Holy Toledo.'
Rachel Amelia Presha was already the "Purple Lady" in her native southeastern Virginia when in the 1980s she decamped without notice for Toledo — because it was "Holy Toledo," she later told a daughter. Clad in purple, clutching a purple staff, she became a familiar figure downtown and in East Toledo. Ms. Presha, 91, died May 5.
William H. Winkle served for nearly a decade as Toledo fire chief, capping a career in which he was honored for bravery and credited with starting a hazardous-material response unit. Mr. Winkle, 82, died June 1.
Raymond V. Walendzak, the son of a firefighter, was credited with keeping Oregon's fire force current in training and technology during two decades he served as chief. He was elected to four terms on the Oregon Board of Education. Mr. Walendzak, 75, died June 7.
Max Gerber, wasn't UT's first sports information director, but he was the first who'd been a journalist and the first to serve full time. His 28-year career spanned what is considered a golden age of Rockets athletics. In 1993, a new press box at the Glass Bowl was named in his honor. Mr. Gerber, 88, died May 31.
Joe Rychnovsky was a sportscaster whose story telling and at times offbeat approach won him a fan base beyond sports followers. His Hey Joe, Try This! segments on WTOL-Channel 11 debuted in 2001 and proved an instant hit. Mr. Rychnovsky, 49, died July 20.
Russell J. Ebeid made his career overseeing glass facilities around the world for an Auburn Hills, Mich., corporation. His philanthropy brought the Ebeid name to the Toledo area, inspired by granddaughter Kristina, who received business and nursing degrees from Lourdes University and became a ProMedica nurse. He was benefactor of ProMedica Ebeid Hospice Residence in Sylvania and the ProMedica Ebeid Institute for Population Health in Toledo and served as a ProMedica trustee. He was a Lourdes supporter and served as a trustee. Mr. Ebeid, 77, died July 30.
Ann M. Galloway was a cultural and civic leader for whom international goodwill became more than a cause. She was a trustee with Toledo Sister Cities International. Toledo's first sister city was Toledo, Spain, and she was a former president of the Association of Two Toledos, who went to Spain regularly to help develop scholarship and executive programs. She also was a formidable fund-raiser for the Toledo Opera Association and other cultural causes. Mrs. Galloway, 93, died Aug. 2.
Duane Abbajay owned Toledo nightclubs for a quarter century that brought in the biggest names in music. When his Country Palace was referred to in Kenny Rogers' 1977 hit song, "Lucille," the venue became a tourist magnet, drawing fans of the singer from great distances. Mr. Abbajay, 84, died Aug. 29.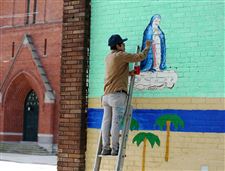 Artist David Cuatlacuatl paints a mural at the Immaculate Conception Church in June. Mr. Cuatlacuatl, whose hometown was in Mexico, died in a car crash in August at age 27.
THE BLADE
Enlarge | Buy This Image
David Cuatlacuatl made art and served as an advocate for the artistic communities of Toledo's Old South End in Toledo and his hometown in Mexico. He received a grant for excellence from the Ohio Arts Council and was the art coordinator for the Sofia Quintero Art & Cultural Center. Mr. Cuatlacuatl, 27, died Aug. 31 from injuries suffered in a car crash.
Bill Engelke introduced WGTE-FM listeners to a universe of classical music in a clear and welcoming voice as a longtime program host and music director. Mr. Engelke, 73, died Sept. 11.
Barbara Blaine founded Survivors Network of those Abused by Priests, or SNAP, in 1988, creating a national group focused on advocacy and healing as she came to terms with her own molestation in Toledo by a priest. Ms. Blaine, 61, died Sept. 24.
Don Michel was a lawyer when he bought his first McDonald's restaurant in the 1970s. He eventually had 14 McDonald's. Known for his philanthropy, Mr. Michel approached his childhood friend Jamie Farr about the actor playing host to an LPGA tournament — and then provided seed money. For years, the annual event was named after North Toledo native Mr. Farr, who recently said that without Mr. Michel and his fellow McDonald's operators, the tournament never would have existed. The tournament is now called the Marathon Classic. Mr. Michel also was a co-founder of northwest Ohio's Ronald McDonald House, which opened in 1982. He died Sept. 28 at age 82.
Steve Krakoff, a vice president at Bowling Green State University, was credited with leading the largest program of building and renovation in the school's 107-year history. The Toledo native died Oct. 16 at age 61.
Lillian J. Walsh was chairman of the Medical College Ohio board of trustees during a period of transition that included a change in presidents and cuts in state support. She was lauded as a calming influence. She and her husband, Dr. F. Michael Walsh, were named outstanding volunteer fund-raisers by the local chapter of the Association of Fundraising Professionals. Mrs. Walsh, 66, died Oct. 25.
Philip Markowicz lost much of his family in the Holocaust, yet years later shared publicly his experiences in a Nazi death camp during World War II with audiences of all ages. Mr. Markowicz, who for years owned Phil's TV & Appliance, died Nov. 8 at age 93.
Richard W. Knepper retired as a judge of the Ohio 6th District Court of Appeals. He was a Republican, and he stepped down as a Lucas County Common Pleas judge in 1996 to unsuccessfully run for county prosecutor — and to ensure that the endorsed Democrat did not go uncontested. Judge Knepper, 70, died Nov. 15.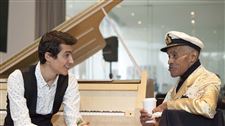 Pianist and composer Guy Mintus, left, and chats with renowned lyricist and singer Jon Hendricks, who began his career in Toledo, at the Toledo Museum of Art Glass Pavilion. In 2000, Mr. Hendricks returned to Toledo to teach at the University of Toledo. He died in November in Manhattan at age 96.
DOUG SWIATECKI Enlarge
Jon Hendricks grew up in Toledo, sang in the church where his father was pastor, and took in the musical counsel of pianist Art Tatum, who accompanied him at a local club. Mr. Tatum left town and gained renown, as did Mr. Hendricks, his for setting lyrics — often intricate — to tunes best known in purely instrumental arrangements. At the start of the 21st century, he returned to Toledo. He taught and directed jazz vocal ensembles at the University of Toledo and performed with well-known jazz artists visiting the area. Mr. Hendricks, 96, died Nov. 22.
Gloria Ann Taylor in her youth sang in her Toledo church and toured with gospel groups. She returned later to Toledo and church singing. In between, her career in secular music led to a Grammy nomination in the R&B vocal category. Devotees of the era's music clamored for her work and, in 2015, a label reissued her early 1970s album, "Love Is A Hurtin Thing." Ms. Taylor 73, died Dec. 8.
J. Michael Porter, was credited with helping Toledo stay afloat through ebbing finances as its city manager. He went on to become president of the Toledo Area Chamber of Commerce and an associate vice president of MCO. Mr. Porter, 75, died Dec. 17.
Dino Mascotto drew crowds for his rough and tumble play on the Toledo Blades and Toledo Hornets minor league hockey teams in the late 1960s and early 1970s. Mr. Mascotto, 85, died Dec. 20.
Harvey Steele for 23 years was co-host with Gary Shores of a morning radio show that consistently topped ratings. Mr. Steele became an ardent booster of organ donation after a liver transplant in 1997 saved his life. He received the National Donor Memorial Award for Excellence in 2016. Mr. Steele, 60, died Dec. 28.
Contact Mark Zaborney at mzaborney@theblade.com or 419-724-6182.
Guidelines: Please keep your comments smart and civil. Don't attack other readers personally, and keep your language decent. Comments that violate these standards, or our privacy statement or visitor's agreement, are subject to being removed and commenters are subject to being banned. To post comments, you must be a registered user on toledoblade.com. To find out more, please visit the FAQ.