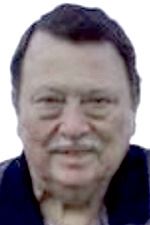 Kahle
Dr. Charles T. Kahle, a primary care physician in Woodville since the mid-1980s who for more than a decade prior made his professional home a high-pressure urban emergency room, died Saturday at ProMedica Toledo Hospital. He was 75.
The West Toledo resident developed kidney failure as a result of a dye used in a diagnostic test, said his wife, Joanne Kahle, who for years was office manager of his Woodville practice. He'd been treated for heart problems — he had a pacemaker and a defibrillator, but never retired and was at work several days before his death.
"He loved what he did and loved his patients," his wife said. "I was his office manager for 17 years, so we loved it together. He liked being able to affect people's lives and help them any way he could."
Dr. Kahle knew his patients, their histories, their families, "and he cared about us, more than just our health. He cared about us as people," said Dr. Laura Lindsay, 35, who counts Dr. Kahle as an inspiration for her pursuit of medical studies. "He was my doctor for as long as I can remember. He was what you think of when you think of a family doctor.
"He took his time, and he looked at everything," said Dr. Lindsay, formerly of Gibsonburg, Ohio, now a pediatric emergency physician at the hospital called Dayton Children's. "He didn't just look at what you specifically were there for."
Born Dec. 8, 1942, to Ida and Charles Kahle, he grew up on Kingsbury Avenue in West Toledo and graduated DeVilbiss High School in 1960. After obtaining a bachelor's degree from the University of Toledo, he completed medical studies at Ohio State University in 1968.
For him, medicine was "his true calling," said his wife and high-school sweetheart. "From the time I knew him, from age 14, that's all he ever talked about."
While in the Navy, he had an internship in 1968-1969 at the Great Lakes Naval Hospital near Chicago, which treated veterans of the Vietnam War.
"It was intense for a long time," his wife said. And that duty turned into good preparation for his stint of nearly 15 years, starting in 1971, at what is now Mercy Health St. Vincent Medical Center in Toledo, where he became head of emergency services.
Emergency medicine was a relatively new specialty then, and Dr. Kahle often worked 12-hour shifts, treating routine medical complaints, but also cardiac arrest, gunshot wounds, and drug overdoses.
The work was unpredictable: "hours of boredom interspersed with sheer terror," Dr. Kahle told a Blade reporter who spent two nights in 1980 observing him and the emergency room.
"I love this place," Dr. Kahle said then. "When things really get tough, I get euphoric. I really get high as a kite when I win. When I lose a patient, it's just as tough as when I first started."
He helped develop a residency in emergency medicine at St. Vincent, and he helped communities in the 1980s that were developing emergency medical squads staffed by paramedics, including Woodville, his wife said. He accepted an offer in the mid-1980s to open a medical practice there.
Surviving is his wife, the former Joanne Mortimer, whom he married Aug. 1, 1964; son, Thomas Kahle; daughter, Amy Holloway; sister, Judy Heiden, and four grandchildren.
Services will begin at noon Wednesday in the Walker Funeral Home, Sylvania Township, with visitation after 10 a.m.
The family suggests tributes to the American Kidney Foundation, American Heart Association, or a charity of the donor's choice.
Contact Mark Zaborney at mzaborney@theblade.com or 419-724-6182.
Guidelines: Please keep your comments smart and civil. Don't attack other readers personally, and keep your language decent. Comments that violate these standards, or our privacy statement or visitor's agreement, are subject to being removed and commenters are subject to being banned. To post comments, you must be a registered user on toledoblade.com. To find out more, please visit the FAQ.