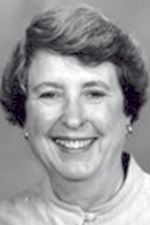 Sally Ann Heid
FREMONT – Sally Ann Heid of Fremont, a retired area law firm partner who was a community volunteer and a mother of four, died Jan. 24 at Elmwood Assisted Living and Skilled Nursing of Fremont. She was 87.
She died of complications from a broken hip, her daughter Dr. Emily Heid said.
Mrs. Heid, whose maiden name was Reardon, joined her husband, Robert C. Heid in the practice of law in Fremont about 1970, and they worked together until 2009, when they both retired and sold the practice.
She previously was an assistant to the Ohio Attorney General in Columbus in the late 1950s through the early 1960s.
A 1954 Ohio State University law school graduate, Mrs. Heid was one of two women in her class and the only female in her class to graduate and practice law, Dr. Heid said.
Over the years, Mrs. Heid was also active in the Sandusky County Democratic Party, campaigning for candidates and hosting fundraisers.
She also was a former longtime trustee for Fremont Memorial Hospital and Birchard Public Library, and a former 30-year board member of the Fremont Civil Service Commission.
"She was very big on being kind to people," Dr. Heid said. "She had four children. She worked full-time. And she got called all the time to serve on this board or that board. But she was always there for us and we never heard a harsh word spoken between our parents."
"The heart of her philosophy was treating everybody the same, with respect, regardless of their position in life," Dr. Heid said.
Said Brigid Heid, Dr. Heid's sister, "On top of that, she was a trailblazer for women. And she inspired me to go to law school."
Mrs. Heid was born in Fremont on March 16, 1930, to Frank and Marcella Reardon.
She graduated from Fremont Ross High School in 1948.
While in high school, she developed a love of politics and was the state governor of the American Legion Auxiliary of Ohio Buckeye Girls State and the campaign manager for a winning presidential candidate at ALA Girls Nation - American Legion Auxiliary.
She and Robert Heid married in 1954. He died in 2017.
In her free time, Mrs. Heid enjoyed reading, playing bridge, and attending and hosting parties. She also enjoyed watching birds and squirrels in her backyard.
She was a lifetime member of St. Ann's Catholic Church, Fremont.
Mrs. Heid was preceded in death by her husband of 63 years, Robert C. Heid.
Surviving are her daughters, Jennifer Tobin, Dr. Emily Heid, and Brigid Heid; son, Charles Heid, and three grandchildren.
Visitation will be at 4 p.m. Friday at Keller-Koch-Chudzinski Funeral Home, 416 S. Arch Street, Fremont.
A Mass of Resurrection will begin at 10 a.m. Saturday at St. Ann Catholic Church, 1021 W State St., Fremont.
The family suggests tributes to the Birchard Public Library, Rutherford B. Hayes Presidential Library and Museums, or St. Ann Catholic Church.
Contact Mike Sigov at sigov@theblade.com, 419-724-6089, or on Twitter @mikesigovblade.
Guidelines: Please keep your comments smart and civil. Don't attack other readers personally, and keep your language decent. Comments that violate these standards, or our privacy statement or visitor's agreement, are subject to being removed and commenters are subject to being banned. To post comments, you must be a registered user on toledoblade.com. To find out more, please visit the FAQ.