Elizabeth Bentley Rank (1930-2018)
Supporter of arts had ties with old Toledo families 
2/2/2018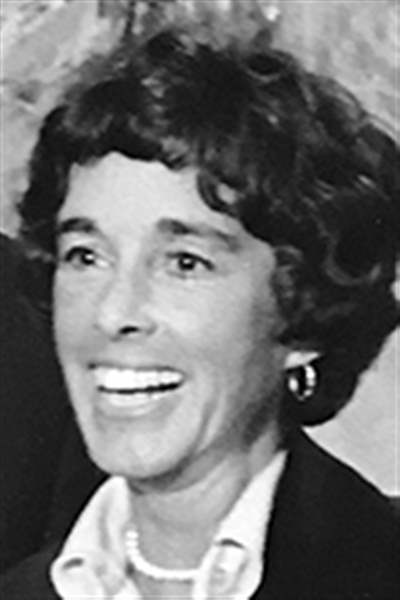 Elizabeth Bentley Rank, a supporter of the arts who took quiet pride in her ties to old Toledo families, died Monday in Hospice of Northwest Ohio, Perrysburg Township. She was 87.
She had pneumonia, a weak heart, and the flu, her daughter Page Armstrong said.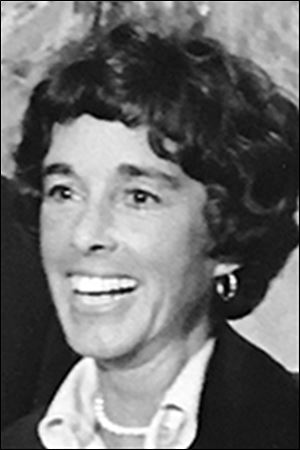 Rank
Mrs. Rank's support for cultural activities included service as a Toledo Museum of Art docent. She'd been a member of the Junior League of Toledo and Country Garden Club of Perrysburg.
"She was a very genuine, lovely person," said Susan Reams, a longtime friend. "She was such an energetic person."
After she and Dr. John Rank married in the 1970s, they traveled the world and eventually called North Palm Beach, Fla., home, staying summers in a Perrysburg Township residence they kept.
She was born March 9, 1930, to Jane Spitzer Bentley and James Bentley and attended Perrysburg public schools and then Maumee Valley Country Day School.
"She had a wonderful circle of friends she kept to the end," her daughter said. "They never lost their ties, even the ones who moved away.
"She had a wonderful time growing up in Perrysburg. She never left."
Her forebears included Anderton Bentley, who emigrated from Yorkshire, England, and founded the A. Bentley & Sons Co. in the late 1800s, which built such Toledo landmarks as the Nicholas Building, the Secor Hotel, the Toledo Museum of Art, and Toledo Hospital. The Spitzer family in that era founded the city's first prominent investment bank, Spitzer & Co., and was responsible for the city's first steel skyscraper, the Spitzer Building, at Madison Avenue and Huron Street, and the Nicholas Building across the street.
Elizabeth Bentley Rank, formerly Elizabeth Stranahan, with children Duane Stranahan lll, 4; Sarah, 3, and Page, 3 weeks.
"She was pretty humble, actually. She was not self important at all," said Kate Bentley MacPherson, whose late father, Anderton L. "Pete" Bentley, Jr., was a first cousin of Mrs. Rank's. "The work that her father did she was proud of, and she was proud of what the Bentley Co. was able to build and achieve."
She had no interest in touting her lineage, said Clint Mauk, a friend from chilldhood.
"She didn't live that way. She wasn't that kind of person," Mr. Mauk said. "She was easy to get along with, as easy as anybody could be. She was never aggressively social. She was born to the manor, but didn't have to show it. She lived her life."
Her high school education was at the Masters School in Dobbs Ferry, N.Y., after which she went to Smith College, where she majored in political economics. Her mother had been the first female president of the Perrysburg Civic Association, was active in the League of Women Voters, and was a Republican precinct committee representative.
Her mother "was a very forward-thinking woman and was aware. She was engaged in what was happening in the world — as was my mother, who read the New York Times up until the day she died," said Ms. Armstrong, her daughter — and Mrs. Bentley's granddaughter.
With her marriage in August, 1952, to Duane "Pat" Stranahan, Jr., who was a childhood friend, came connections to the family that started Champion Spark Plug Co. Mr. Stranahan's maternal great-grandfather, James Secor, was manager of the successful grocer Secor, Berdan & Ketcam, and helped organize the Union Safe Deposit and Trust Co., the Union Savings Bank, and the Woolson Spice Co.
She and their newborn son, Duane III, joined Mr. Stranahan in Tokyo during his Army service. The family lived for a time in Ann Arbor while Mr. Stranahan studied law, but settled in Perrysburg and lived for years on Locust Street.
Mrs. Rank also was was a volunteer at Way Public Library in Perrysburg
For more than a decade, she and a group of friends traveled annually to London, where they took in the museums and gardens and saw a play.
"They naturally called themselves, 'The London Ladies,'" Ms. Armstrong said, and had lunch regularly, even when the Maumee replaced the Thames as the closest waterway.
Mrs. Rank had a genuine interest in the activities and lives of others, Mrs. MacPherson said.
"Her energy was contagious. She seemed to bubble," said Mrs. MacPherson, an architect. "She was always very aware of delightful things in life. Anything I was doing professionally, she would have an interest in."
She was a voracious reader of classics in fiction. Into her 70s, she attended Toledo Symphony concerts.
"Mom was a very cheerful and gracious woman and had a beautiful smile," Ms. Armstrong said. "She liked to be around people and to entertain. She had a lot of qualities, but she was not a flamboyant person. She was charming and witty and very bright and was content to not be the center and focus of every party."
Her marriage to Mr. Stranahan ended in divorce. She married Dr. John Rank on May 3, 1975. He died Feb. 10, 2009.
Surviving are her son, Duane Stranahan III; daughters Sarah Stranahan and Page Armstrong; stepdaughter, Lacey Fix; stepson, John Rank, Jr., and 11 grandchildren.
Funeral services will be at 11 a.m. Friday at St. Timothy's Episcopal Church, Perrysburg. Arrangements are by Witzler-Shank Funeral Home, Perrysburg.
The family suggests tributes to the Toledo Museum of Art.
Staff writer Alexandra Mester contributed to this report.
Contact Mark Zaborney at mzaborney@theblade.com or 419-724-6182.