Mary M. "Molly" Chapman, who had a long career in volunteering and encouraged succeeding generations to help others before self, died Saturday at Hospice of Northwest Ohio, Perrysburg Township. She was 105.
Her health declined only recently, daughter Martha Chapman said. Formerly of Hasty Road and then Citation Drive in Ottawa Hills, Mrs. Chapman lived at Sunset Village Sylvania Township.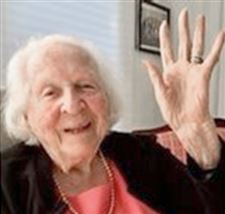 Chapman
Mrs. Chapman was a volunteer for more than 45 years at what is now ProMedica Toledo Hospital and worked at the information desk until age 93. She also helped at the former Conlon Center downtown, which offered training and work opportunities for those with disabilities. She was a former officer of the center's auxiliary.
To her great-grandchildren, "She said very clearly, 'Help the other guy, not yourself,'" said her son Erie D. "Chip" Chapman III, former chief executive of Riverside Hospital in Toledo and Riverside Methodist Hospital, Columbus.
She was born Aug. 21, 1912, in Elyria, Ohio, to Ellen and Ralph Murbach, and was a graduate of Elyria High School. An uncle attended Northwestern University in Evanston, Ill. When she visited him, she decided to become a student there.
Mrs. Chapman, who liked language and writing stories, studied journalism and received a bachelor's degree from Northwestern. Years later, she wrote articles for Inverness Club's newsletter about women who golfed there, as did she.
She and another Elyria native, Erie D. Chapman, married Feb. 23, 1935, and she took on the role of supportive spouse as he made his career with the YMCA. After assignments at Ys in East Cleveland, Ohio, and Lockport, N.Y., Mr. Chapman went to the YMCA in Hollywood, where he became executive vice president. He had regular contact with the likes of Bob Hope, John Wayne, and Johnny Weissmuller. Art Linkletter was a frequent guest in the Chapman home. She also entertained at home and accompanied her husband to star-studded functions at the Hollywood Bowl.
"She was always his support," her daughter said. "That's the way she wanted it — to play in the background but be strong for him and take care of the children."
The family returned to Ohio, and her husband was associated with the YMCA in Toledo from 1955-70, becoming general secretary and executive vice president.
Mrs. Chapman recalled the end of World War I and returning soldiers marching through Elyria and a woman who glided through town in an electric automobile, a flower in a vase visible through the glass. Until a fall in her early 90s, she golfed and walked several miles a day and used a computer. During rain storms, she'd say, "Isn't this cozy?"
"What I learned from her was a deep appreciation of beauty and music and flowers and birds," her son said. "Her life was so bright and lovely, the way a star looks when there's only one in the sky."
Her husband died Aug. 19, 1995.
Surviving are her daughters, Ann Debes and Martha Chapman; sons, Erie D. "Chip" III and John Chapman; four grandchildren, and 10 great-grandchildren.
Memorial services will be at 11 a.m. Friday at Epworth United Methodist Church, Ottawa Hills, where she was a member. Arrangements are by Ansberg-West Funeral Home.
The family suggests tributes to Epworth's church music fund or furniture ministry or Hospice of Northwest Ohio.
Contact Mark Zaborney at mzaborney@theblade.com or 419-724-6182.
Guidelines: Please keep your comments smart and civil. Don't attack other readers personally, and keep your language decent. Comments that violate these standards, or our privacy statement or visitor's agreement, are subject to being removed and commenters are subject to being banned. To post comments, you must be a registered user on toledoblade.com. To find out more, please visit the FAQ.