Senator John McCain dies at 81
8/25/2018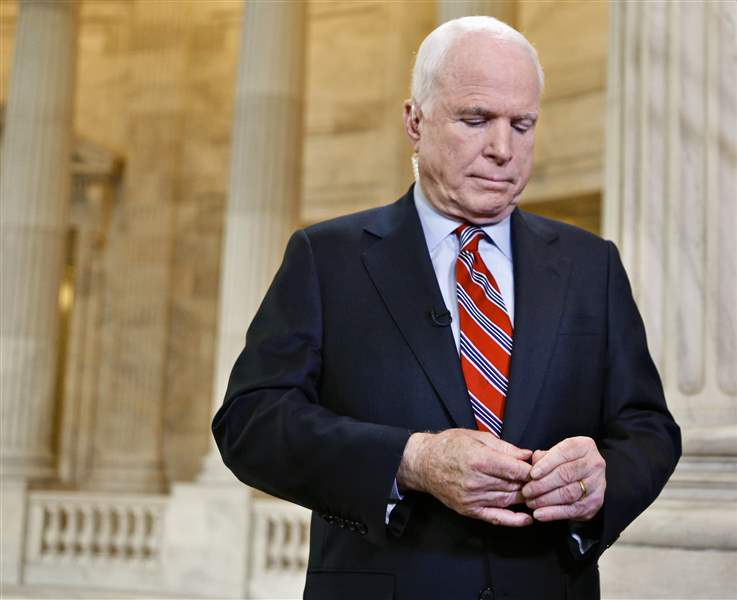 Sen. John McCain, R-Ariz. pauses during a TV news interview on Capitol Hill in Washington. McCain's family says the Arizona senator has died of brain cancer at the age of 81.
ASSOCIATED PRESS
SEDONA, Ariz. — Sen. John McCain, who faced down his captors in a Vietnam prisoner of war camp with defiance and later turned his rebellious streak into a 35-year political career that took him to Congress and the Republican presidential nomination, died Saturday after battling brain cancer for more than a year. He was 81.
He was elected to the Senate from Arizona six times but was twice thwarted in seeking the presidency.
Mr. McCain had suffered from a malignant brain tumor, called a glioblastoma, for which he had been treated periodically with radiation and chemotherapy since its discovery in 2017.
Because he was a son and grandson of four-star admirals who were his larger-than-life heroes, Mr. McCain carried his renowned name into battle and into political fights for more than a half-century.
It was an odyssey driven by raw ambition, the conservative instincts of a shrewd military man, and a rebelliousness evident since childhood.
Nowhere were those traits more manifest than in Vietnam, where he was stripped of all but his character.
VIDEO: Senator John McCain dies at the age of 81
He boiled over in foul curses at his captors. Because his father was the commander of all U.S. forces in the Pacific during most of his 5½ years of captivity, Mr. McCain, a Navy lieutenant commander, became the most famous prisoner of the war, a victim of horrendous torture, and a tool of enemy propagandists.
Shot down over Hanoi, suffering broken arms and a shattered leg, he was subjected to solitary confinement for two years and beaten frequently.
Often he was suspended by ropes lashing his arms behind him. He attempted suicide twice. His weight fell to 105 pounds. He rejected early release to keep his honor and to avoid an enemy propaganda coup or risk demoralizing his fellow prisoners.
He finally cracked under torture and signed a "confession." No one believed it, although he felt the burden of betraying his country.
To millions of Americans, Mr. McCain was the embodiment of courage: a war hero who came home on crutches, psychologically scarred and broken in body, but not in spirit.
He underwent long medical treatments and rehabilitation, but was left permanently disabled, unable to raise his arms over his head. Someone had to comb his hair.
RELATED: John McCain: The last statesman | McCain stopping medical treatment for his brain cancer
After retiring from the Navy and settling in Arizona, he won two terms in the House of Representatives, from 1983 to 1987, and six in the Senate.
He was a Reagan Republican to start with, but later moved right or left, a maverick who defied his party's leaders and compromised with Democrats.
He lost the 2000 Republican presidential nomination to George W. Bush, who won the White House.
In 2008, against the backdrop of a growing financial crisis, Mr. McCain made the most daring move of his political career, seeking the presidency against the first major-party African-American nominee, Barack Obama.
With national name recognition, a record for campaign finance reform, and a reputation for candor, Mr. McCain won a series of primary elections and received the Republican nomination.
But his selection of Alaska Gov. Sarah Palin as his running mate, meant to be a bold, unconventional move in keeping with his maverick's reputation, proved to be a challenge.
She was the second female major-party nominee for vice president (and the first Republican), but voters worried about her qualifications to serve as president, and about Mr. McCain's age — he would be 72, the oldest person ever to take the White House.
In a 2018 memoir, The Restless Wave: Good Times, Just Causes, Great Fights and Other Appreciations, he defended Ms. Palin's campaign performance, but expressed regret that he had not instead chosen Sen. Joseph I. Lieberman, a Democrat-turned-independent.
At some of his rallies, vitriolic crowds disparaged black people and Muslims.
VIDEO: John McCain's extraordinary career
When a woman said she did not trust Mr. Obama because "he's an Arab," Mr. McCain, in one of the most lauded moments of his campaign, replied:
"No, ma'am. He's a decent family man, a citizen that I just happen to have disagreements with on fundamental issues."
On Election Day, Mr. McCain lost most of the battleground states and some that were traditionally Republican.
Mr. Obama won with 53 percent of the popular vote to Mr. McCain's 46 percent, and 365 Electoral College votes to Mr. McCain's 173.
Returning to his Senate duties, Mr. McCain moved to the right politically to fend off a Tea Party challenge to his 2010 re-election.
He voted against the Affordable Care Act, Mr. Obama's signature health care plan, which became law in 2010.
As Congress reconvened in January, 2015, with Republicans in control of the Senate, Mr. McCain achieved his longtime goal to become chairman of the Armed Services Committee, with the power to advance his national security and fiscal objectives under a $600 billion military policy bill.
He considered the post second only to occupying the White House as commander in chief.
With the rise of Donald Trump after his election in 2016 as the nation's 45th president, Mr. McCain was one of the few powerful Republican voices in Congress to push back against Mr. Trump's statements and Twitter posts.
Personal animus between Mr. McCain and Mr. Trump arose in the Republican presidential primaries in 2016.
Mr. McCain and Mitt Romney, with standing as the previous two Republican presidential nominees, denounced Mr. Trump as unfit for the presidency.
Mr. Trump denigrated Mr. Romney as a "failed candidate" and "a loser" beaten by Mr. Obama.
He had little to say about Mr. McCain.
But months earlier, Mr. Trump had derided Mr. McCain as a bogus war hero and made light of his years of captivity and torture.
"He's a war hero because he was captured," Mr. Trump said. "I like people who weren't captured."
Mr. McCain held his fire.
He voted to confirm all but two of Mr. Trump's 15 Cabinet selections and eight other administration posts.
But he also chastised Mr. Trump for comments equating Russian and U.S. interests.
"That moral equivalency is a contradiction of everything the United States has ever stood for in the 20th and 21st centuries," Mr. McCain said.
President Trump on Saturday night offered his "deepest sympathies and respect" to the McCain family.
"Our hearts and prayers are with you!" Mr. Trump wrote on Twitter.
Mr. Obama paid tribute to Mr. McCain by saying that despite their differences, they shared a "fidelity to something higher — the ideals for which generations of Americans and immigrants alike have fought, marched, and sacrificed."
Former President George W. Bush called the late Arizona senator a "man of deep conviction and a patriot of the highest order."
Mr. McCain was a "public servant in the finest traditions of our country," Mr. Bush said, calling him a "friend whom I'll deeply miss."
Mr. McCain's quest for the 2000 Republican presidential nomination brought him no closer to Toledo than Cleveland ahead of the Ohio primary.
In 2008, ahead of the Ohio Republican primary, Mr. McCain held a meet-and-greet event at Charlie's Restaurant in Perrysburg.
He began his local visit by holding a news conference at the Park Inn in downtown Toledo.
In August, 2008, Mr. McCain was greeted by protesters and chants of "Obama" as his motorcade raced through the entrance of the Fermi II nuclear power plant near Monroe.
A campaign event in Lima drew 200 supporters days later.
During a Toledo stopover in September, he held no formal campaign events, but instead visited a volunteer agency as it prepared relief supplies for victims of Hurricane Gustav along the Gulf Coast.
One of the best known figures of that 2008 campaign — Samuel "Joe the Plumber" Wurzelbacher — gained international notoriety after Mr. McCain named the Springfield Township man during a debate with Mr. Obama.
Days earlier, Mr. Wurzelbacher and Mr. Obama had something of a debate as the candidate walked door to door in Springfield Township.
The exchange between the men was captured by national news cameras, and Mr. McCain during the presidential debate spoke of "Joe the Plumber," citing Mr. Obama's response to Mr. Wurzelbacher's concern over tax increases as "class warfare."
Mr. McCain, campaigning a week later before a crowd of 7,000 at SeaGate Convention Centre in Toledo, said the real winner of the debate between the two presidential candidates had been "Joe the Plumber."
Mr. McCain and his running mate, Sarah Palin, invoked "Joe the Plumber" frequently for the rest of the campaign, including a stop in Defiance.
Mr. Wurzelbacher later traveled the state in support of Mr. McCain. By the end of the month, Mr. McCain was joined by Mr. Wurzelbacher on the stump in Sandusky, Elyria, Ohio, and Mentor, Ohio.