Tad Weed (1957-2018)
Jazz pianist showed skill on stage, in classroom
8/26/2018
Tad Weed, associate professor of jazz piano at the University of Toledo, who demonstrated fluency at his instrument and command of his art in the classroom, studio, club, and concert hall, died Wednesday in his Ypsilanti, Mich., home. He was 61.
He had cancer, his wife, Marla Weed, said.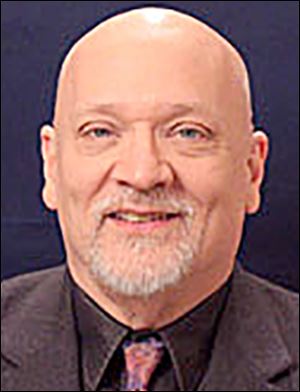 Weed
Mr. Weed was hired to the UT jazz studies faculty in 2011.
"He had a very unique musical voice on the piano," said Gunnar Mossblad, a UT professor of saxophone and jazz, who was director of jazz studies when Mr. Weed was hired. "He had lots of influences from the great players, but he had his own unique approach. He could do so much.
"Each professor tries to bring their real-life experiences to the classroom. He strived to do that at all times, and he was mentoring to his students in giving them experiences outside of the university."
Estar Cohen, a vocalist, composer, and 2015 UT graduate said, "He was teaching you, essentially, how to work as a musician."
Mr. Weed taught jazz piano, arranging, and improvisation, and was a director of Vocalstra, an ensemble founded by the late Jon Hendricks, the internationally renowned vocalist who returned to Toledo, where he grew up, to teach at UT.
Mr. Weed performed widely across northwest Ohio and southeast Michigan and also had taught at Bowling Green State University, the University of Michigan, Western Michigan University, Oakland University, and the University of Windsor.
"To me, he was by far one of the most underrated piano players of his generation," said Norm Damschroder, a senior lecturer of double bass and jazz at UT. "It was such a range. He could go completely into free jazz and suddenly he was playing these beautiful romantic flourishes."
A native of Jackson, Mich., Mr. Weed studied classical piano and composition at Central Michigan University and then moved to Los Angeles. He aimed to be a working musician, his wife said. He received bachelor's and master's degrees in piano performance and jazz studies from the Grove School of Music.
He was on the staff of Discovery Records. He performed with artists as stylistically diverse as singers Chaka Khan, Betty Carter, and Jack Jones; trumpeter Shorty Rogers and cornetist Bobby Bradford; saxophonist Stanley Turrentine and clarinetist John Carter.
For more than a decade, through the 1990s, he was music director for Paul Anka, accompanying the singer on stages around the world. He toured with such singers as Carmen McRae and Anita O'Day. He performed on more than 50 recordings, according to his UT biography.
"That deep knowledge of being a professional musician with some of the greatest professionals, that's an incredible bunch of skills — and stories and background — to bring to the academy," Mr. Damschroder said. "He knew the subject because he lived it."
Ms. Cohen, a Sylvania native, said that friends already at the university encouraged her to enroll because, they said, "You have to study with Tad," she recalled.
"There was a creative aura about him," said Ms. Cohen, recently recognized with a national award. "One of Tad's most impactful teachings that he left me with was the importance of finding and growing into your own unique voice with music and art and life in general. I really strive to reflect that generosity he had with his knowledge in my own teaching."
He was born May 5, 1957, to LaVergne and Worth Weed. His parents had a family band that performed in the Jackson area, and each child had an instrument.
"Tad started when he was about 3 or 4 and was playing tambourine," his wife said. His father later introduced him to the drums, but after the younger Mr. Weed developed an interest in keyboards, "all he would do is practice."
He was the youngest of four, and his parents took him to see musicians performing in the area, including at such Detroit jazz venues as the iconic Baker's Keyboard Lounge.
When he announced plans to get in his vehicle and head for the West Coast, "His mom and dad were very supportive," his wife said. "His mom and dad had been his largest support system throughout his life."
He was a graduate of Lumen Christi High School in Jackson.
Surviving are his wife, the former Marla Hendrickson, whom he married May 15, 2004; sons Joshua Weed and Mark Kruse; daughter Jennifer Steininger and Angela Weed; sisters Caryl Merritt and Jill Hunter; brother, Jack Weed, and three grandchildren.
Visitation will be from 4-8 p.m. Tuesday at Stark Funeral Service, Ypsilanti. Funeral services will be at 11 a.m. Wednesday at Faith Lutheran Church, Ypsilanti, where he was a member.
Contact Mark Zaborney at mzaborney@theblade.com or 419-724-6182.