William T. Coon (1933-2018)
Doctor served Ottawa County for 30 years
9/2/2018
MARBLEHEAD, Ohio — William T. Coon, who for decades served others while practicing family medicine in Port Clinton, died Thursday at University of Toledo Medical Center, the former Medical College of Ohio Hospital. He was 85.
Dr. Coon, of Marblehead, suffered a stroke, his family said.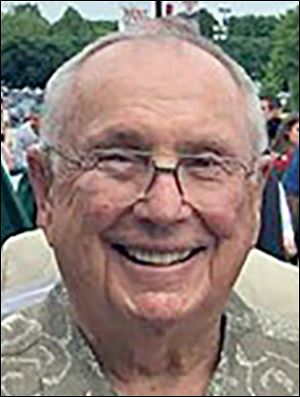 Coon
Entire families would visit his medical practice over the 30 years. He was a doctor who sat and listened to people, said his wife, Jo Coon.
"He was a true practitioner. He delivered babies. He did surgery. He did house calls. All those good things doctors used to do that doesn't happen in these days," Mrs. Coon, 82, said.
Dr. Coon completed medical school in 1959 at Ohio State University and later aerospace medicine training with the United States Air Force.
"He really wanted to be a doctor from the time he was about 10 years old," Mrs. Coon said. "That was his goal. He wanted to be a doctor and help people, and he certainly did."
Dr. Coon was born June 6, 1933, in Port Clinton to Herbert and Grace Coon. His mother's relatives had lived in Ottawa County since the War of 1812, Mrs. Coon said.
He graduated valedictorian in 1951 from Port Clinton High School and four years later from Ohio University.
There, he met his future wife. Mrs. Coon was a freshman attending a fraternity sock hop during her first dance of the college year.
They dated and fell in love, she said.
The two married July 16, 1955.
"He was my hero. He stuck up for me many, many times. He was always there for me," she said. "We had 63 fabulous years."
Involved in Reserve Officers' Training Corps at OU, Dr. Coon was ultimately a captain and flight surgeon for seven years. He spent four years at two bases in California.
Dr. Coon retired at age 60 due to health reasons, but resumed working from ages 80 to 85 for an insurance processing company. He traveled Ohio and Indiana for patient file record evaluations. It helped his family, and he could once again meet patients, Mrs. Coon said.
His son, Jeff Coon, described his father as a gentle person. He was compassionate and enjoyed hunting and fishing with his children.
Dr. Coon was a deep thinker, level-headed and modest, said Mr. Coon, 59, of Redding, Calif.
"He was just the kind of guy you'd want to have as your friend because he was a really good guy," his son said.
Surviving are his wife, Jo; sons Jeff, Thomas, Michael, and Stephen Coon; 17 grandchildren, and four great-grandchildren.
Visitation will be from 2 to 4 p.m. and 6 to 8 p.m. Tuesday at Gerner-Wolf-Walker Funeral Home in Port Clinton. Funeral services will be at 11 a.m. Wednesday at Firelands Presbyterian Church.
The family suggests tributes to Firelands Presbyterian Church, Trinity United Methodist Church of Port Clinton, or Matecumbe United Methodist Church in Islamorada, Fla.
Staff writer Javonte Anderson contributed to this report.
Contact Ryan Dunn at rdunn@theblade.com, 419-724-6095, or on Twitter @RDunnBlade.