Lorenz G. Kisor (1934-2018)
9/5/2018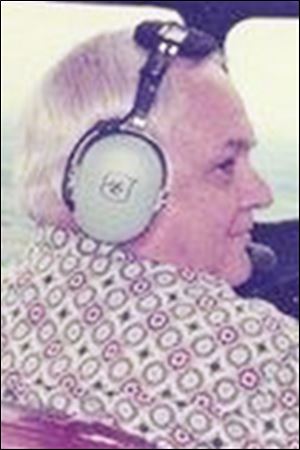 Lorenz G. "Larry" Kisor
Lorenz G. "Larry" Kisor, an insulation salesman who was a past commander of an Ohio Army National Guard battalion based in Monclova Township and who encouraged young people to adopt his passion for flying, died Aug. 13 at the Hospice of Northwest Ohio, South Toledo. He was 83.
Joanne Kisor, the Toledo-area resident's wife, said he died of pancreatic cancer that had been diagnosed about five months prior.
Ms. Kisor said her husband already had his pilot's license when they met in 1962 to start a one-year courtship. He held a commercial pilot's rating and several endorsements including flight instruction as well as a mechanic's license.
Along with his professional work for the P.R. Sussman Co. in Perrysburg, he became a substitute instructor for the Toledo Public Schools' aviation program at Toledo Express Airport and was a pilot for the Young Eagles program sponsored by the Experimental Aviation Association.
The latter offers people ages 8 to 17 free introductory flights in small aircraft while learning about aviation. Mr. Kisor provided more than 700 such flights.
Nick Herman, the Toledo aviation program's retired director with whom Mr. Kisor jointly owned two Piper Cub single-engine planes they based at Betz Airport near Blissfield, Mich., said they often flew to "fly-in" events in many places, and Mr. Kisor would then offer Young Eagles flights to air show visitors.
"He just liked the look on the kids' faces. ... Some of these kids ended up becoming airline pilots," Mr. Herman said.
After they married and raised a family, Ms. Kisor said her husband often took her and their two sons out for local flights to other airports where they might have a meal at the airport restaurant, then fly home.
In later years he did most of his flying with friends from the Portage Valley Flying Club, based near Elmore, and the Quiet Birdmen, a secretive men's flying society. He owned a Cessna 172 along with his interest in the Pipers.
Ms. Kisor, who also holds a private pilot's license, said their sons both pursued aviation-related careers.
But for longer travels — they visited all of the lower 48 states and every province in Canada — the Kisors preferred to drive.
"Then you could see the countryside and meet the people. You could take your time getting there and coming back," Ms. Kisor explained.
Born Oct. 11, 1934, in Ann Arbor, Mr. Kisor graduated from Ypsilanti High School and completed bachelor of science studies at Michigan State University. Ms. Kisor said he also received a Reserve Officers' Training Corps commission as a second lieutenant and entered the Army after graduation.
After two years of active duty, he joined the Michigan Army National Guard in its armor division, then transferred in 1971 to the 983rd Engineer Battalion of the Ohio Army National Guard in Monclova. He retired from the military in 1994 with the rank of lieutenant colonel.
The former Joanne Steger said she met Mr. Kisor while he was selling acoustic insulation for the Amstrong Cork Co. He joined Sussman in 1967 as a salesman and retired there as vice president of sales in 1999.
Mr. Kisor is survived by his wife of 55 years, Joanne Kisor; sons, Stephen and Ronald Kisor, and six grandchildren. He was preceded in death by a sister.
A gathering of family and friends has been scheduled for 2 p.m. Oct. 6 in Brookwood Metropark, 5604 Swan Creek Dr., Toledo.
The Walker Funeral Home, Toledo, is handling arrangements.
Contact David Patch at dpatch@theblade.com or 419-724-6094.