John L. Mason (1931-2018)
Former UT business college dean led S&L
9/9/2018
John L. Mason, a former business college dean at the University of Toledo whose marketing expertise led to executive roles at a local savings and loan, died Monday in the Waterville home of his daughter, Jennifer Rossol. He was 87.
He was in ill health recently and under hospice care, his daughter said. He and his wife of 64 years, Anne Lepley Mason, lived in Bonita Springs, Fla., for 20 years in retirement before returning to the Toledo area about four years ago. Mrs. Mason died April 19.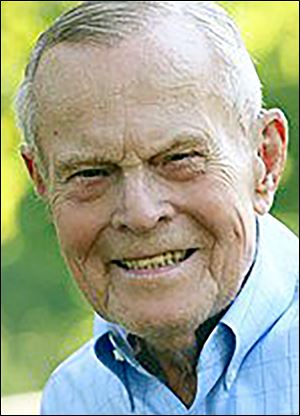 Mason
Mr. Mason retired in 1987 as president of People's Savings, having steered the thrift through the crisis then affecting savings and loans nationwide. The year before, People's Savings became part of Charter One Bank, said Larry Boyer, a former vice president of People's Savings and Charter One.
"He knew what had to be done. He was very smart and astute in banking," said Mr. Boyer, executive vice president and founding member of Waterford Bank.
"He was instrumental in my career path," Mr. Boyer said. "When I was at the University of Toledo, he was one of my professors there. After I left and got into banking, pretty soon he was my boss."
Mr. Mason taught marketing at UT, led the business research center, and had been a consultant to business and industry. In announcing Mr. Mason's appointment in 1974 as a People's Savings executive vice president, E.O. Knowles, the president and chairman, said that the future of the savings and loan business would be directly affected by marketing and Mr. Mason's other academic specialties.
He succeeded Mr. Knowles as president in 1982.
Mr. Mason came to the UT college of business administration in 1960. He was named an associate professor of marketing in 1963 and an assistant dean in 1964. In naming Mr. Mason dean in 1966, UT President William Carlson said, "He views his role as seeing to it that things get done."
He was on the original board, starting in 1970, of the Toledo Area Regional Transit Authority. He was a member of the Toledo Labor-Management-Citizens Committee and was a former chairman of the Toledo Methadone Clinic. He was on the board of the Lucas County Improvement Corp. for more than a decade.
He was named one of Toledo's 10 outstanding young men for 1966 by the Toledo Area Junior Chamber of Commerce and was named "Marketing Man of the Year" in 1967 by the local chapter of the American Marketing Association.
He was noted for being organized, personally and professionally. In the 1990s, he wrote a practical and humorous guide to dining etiquette for his grandchildren, which included Rule 6: Keep your left hand in your lap.
"This is not a rigid rule but it keeps you from leaning on the table and going to sleep in your soup or using your thumb to push food onto your fork (remember, Grandpa is watching)."
He was born Feb. 26, 1931, in Upper Sandusky, Ohio, to Helen and Harold Mason. He was a 1949 graduate of Upper Sandusky High School, where he played football and basketball. He received a bachelor's degree. He received master and doctor of business administration degrees from Indiana University. During service in the Army, he was stationed in Germany.
Surviving are his son, John R. Mason; daughter, Jennifer Rossol; brothers Jim and Dave Mason; sisters Cathy Keller and Mary Droessler; four grandchildren, and two great-grandchildren.
Visitation will be from 3-6 p.m. Sunday at the Coyle Funeral Home. Services will be at 11 a.m. Monday at Waterville United Methodist Church, where the body will be after 10 a.m.
The family suggests tributes to Waterville United Methodist Church, of which he was a member.
Contact Mark Zaborney at mzaborney@theblade.com or 419-724-6182.