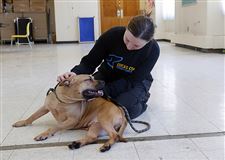 Laura Simmons of the Lucas County Canine Care & Control plays with Butterball, one of the Fearing Six 'pit bulls' rescued last year. Butterball will be going to the Lucas County Pit Crew.
THE BLADE/AMY E. VOIGT
Enlarge | Buy This Image
A local "pit bull" rescue group has taken a second dog from a group of six seized in a Toledo dog-fighting case one year ago.
Butterball, a tan and black female estimated at 1½ years old, was taken into a foster home Sunday with the Lucas County Pit Crew. She was renamed Georgia.
"I knew she would be a very easy dog to place," said Jean Keating, executive director of the Lucas County Pit Crew. "She's very social and so adorable. She's hard to resist."
In addition, the first rehabilitated dog from the group known as the "Fearing Six" is being adopted, and several people from across the country who own former fighting dogs are raising funds for the local dogs' care.
On Jan. 31, 2013, Toledo police discovered the "pit bulls" caged and chained to the floor in an otherwise vacant, boarded-up house in the 200 block of South Fearing Boulevard.
Their former owner, Carl Steward of 716 Cherry St., was convicted on Oct. 23 of five felony counts of dog fighting. He was acquitted on one count relating to Georgia because she had no fighting scars and had not been bred.
All six dogs were evaluated on Dec. 21 by experts Donna Reynolds and Tim Racer, the co-founders of BADRAP, a California "pit bull" rescue, education, and advocacy group established in 1999.
Though BADRAP had not recommended it, Bear, the only male in the group, and a female named Eleanor, were killed Dec. 26 and 29, respectively. Julie Lyle, director of the Lucas County Canine Care & Control that has housed the dogs since they were seized, said the pair's severe dog aggression and Bear's intolerance of handling resulted in her decision to euthanize them.
Georgia's evaluation showed she is very friendly toward people and dogs, though she is a little wild because of her high energy level and lack of training.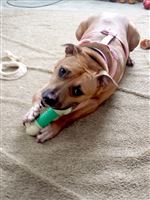 Joy, formerly Honeysuckle, was the first of the Fearing Six former fighting dogs to be rehabilitated. She did well with people and other dogs in her evaluation and has blossomed in her foster home.
LUCAS COUNTY PIT CREW Enlarge
"She needs some bring-it-down-a-notch work," Ms. Keating said. "We'll re-evaluate her once she's living in a foster home to see what else she needs before she goes up for adoption."
Ms. Lyle said Georgia was able to take part in play groups at the county shelter and the staff there adored her.
"She's a lovely dog," Ms. Lyle said. "Were she from a different situation or background, we would have adopted her out from here."
Georgia's namesake is a former fighting dog once prized by NFL player Michael Vick that was rehabilitated and adopted. She was part of a group known as "Vicktory dogs" after their 2007 rescue from Vick's Bad Newz Kennels and subsequent rehabilitation.
Ms. Keating said the new Georgia physically resembles the former, who died in early December.
"We wanted to honor the efforts of her forever family and all the work they've done in trying to reach out and help other victims of dog fighting," Ms. Keating said.
The first dog the Pit Crew took in about a month ago was a tan and white female named Honeysuckle, estimated at 3 or 4 years old, who did well in her evaluation. Now named Joy, she blossomed in her foster home.
"I thought it might be a couple of months, but she's really easy-going and mellow and she's settled right in," Ms. Keating said. "She was a little shut down, but she's gaining confidence and she warms up faster now that she's more comfortable with things."
Moving on
The Pit Crew last week conducted a home visit with a new family for Joy, and she will soon be moving on to a permanent home.
The "Fearing Six" were the first ex-fighters in Lucas County's history to be given a second chance. Until 2012, "pit bulls" were deemed inherently vicious under Ohio law and were subsequently killed without any opportunity for evaluation or rehabilitation. Tom Skeldon, Ms. Lyle's predecessor who was ousted from his job in 2009, was known to be hostile toward "pit bull"-type dogs.
The two remaining members of the Fearing group are a white and orange female named Mopsy and a black and white female named Michaela. They are still being kept at the county shelter, waiting for a qualified rescue group to take them.
Both dogs showed some concerning behavior around other dogs, though they were not overtly aggressive and were very friendly with people. Mopsy also appeared to have been a family pet at some point as she displayed some limited obedience skills.
Ms. Lyle said the county has been actively reaching out to rescues across the country that could rehabilitate the two dogs, but none has showed more than a preliminary interest.
"We are getting nowhere so far," she said. "Everybody that can take these dogs is full."
Michaela also has a complicating health factor that makes her more difficult to place. She tested positive for a blood-borne microscopic parasite called babesia that could make her sick in the future.
Ms. Lyle said she has not set an official deadline for Mopsy and Michaela to be pulled from the shelter.
"We're not going to keep them indefinitely," she said. "That's not fair to them. If we can't get them somewhere relatively soon, we're going to have to consider euthanasia."
Fund-raising effort
Nevada resident Rachel Johnson, who adopted a Vicktory dog named Oscar, is spearheading an effort to raise funds for the four surviving Fearing Six dogs.
"It really struck a chord with me that these six dogs are following in the footsteps of the path the Vicktory dogs laid," she said. "They are trail-blazers and they deserve a second chance."
Two copies of The Lost Dogs, written about the Vicktory dogs, signed with paw prints from several of the dogs are being auctioned on Oscar's Facebook page. Paw-signed photos of Vicktory dogs are also being auctioned.
"We're building 'scholarships' for the dogs," Ms. Johnson said. "We want to try to help make it easier for rescue groups to help the dogs."
She said the funding will go to the rescue groups that pull the dogs from the shelter. It can be used for things related to their care, such as transportation costs, medical expenses, and training.
The Pit Crew will manage the funds. Ms. Keating said the money will be divided among the four dogs, though how exactly it will be divvied up is to be determined. As of Monday, the auction had raised $1,175 and was still continuing.
Ms. Lyle said she is appreciative of the Vicktory group's efforts to help the Fearing Six, but she is unsure if it will ultimately affect the outcome.
"Any rescue that's interested in taking them, I would hope money wouldn't be the deciding factor," she said.
Ms. Keating said the Pit Crew will consider taking Mopsy or Michaela if a space opens.
"We would take either of them, but they need to be in a more specialized foster home that has the knowledge and experience to handle them," she said.
Contact Alexandra Mester: amester@theblade.com, 419-724-6066, or on Twitter @AlexMesterBlade.
Guidelines: Please keep your comments smart and civil. Don't attack other readers personally, and keep your language decent. Comments that violate these standards, or our privacy statement or visitor's agreement, are subject to being removed and commenters are subject to being banned. To post comments, you must be a registered user on toledoblade.com. To find out more, please visit the FAQ.