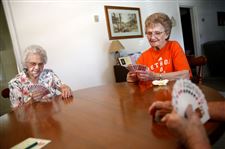 Myra Lucky, left, and Jean Ladd, 90, both of Woodville, Ohio, play their monthly game of pinochle with their two friends Louis Grove and Fran Greenley at Ladd's home Wednesday, Aug. 22, 2012. Ladd is one of two surviving members of the card club that started 65 years ago. "There was a time when we played with drinks," Ladd laughed, "But then we go older."
THE BLADE/ZACK CONKLE
Enlarge | Buy This Image
WOODVILLE, Ohio -- Jean Ladd has been playing cards with her friends for most of her long life, and she has no intention of calling it quits even as she closes in on the century mark.
The longtime Woodville resident observed her 90th birthday last week. And what better way to celebrate than with a game of pinochle with a select trio of friends. She figured this was the perfect way to mark the occasion.
That's because this year she and her friends also are marking the 65th anniversary of their monthly card group.
The ladies gather on the second Wednesday of each month. Ms. Ladd, however, is the only one who was present at the beginning.
"Those who started it are all deceased, except for me," she said. "I'm the last of the tribe."
Not that the friends celebrating with her last week were newcomers to the group. They're in their 80s and 90s and have been members for many decades.
They were Francis Greenley, 85, Lois Grove, 86, and Myra Luckey, 94. The group has four other members, in their 70s and 80s, who didn't make the birthday celebration.
"We've had lots of players over the years," said Ms. Ladd, who looks 15 to 20 years younger than her age. "I can't remember exactly how many we started with. It was at least 10."
Ms. Greenley said she has been in the group about 60 years, and Ms. Grove and Ms. Luckey have been members for 50 and 45 years, respectively.
Ms. Ladd grew up in Toledo and Genoa and has been in Woodville for about as long as the card group is old.
She owned and operated a beauty shop in East Toledo but retired when she and her husband, Harold, began having children. Eventually they had two girls and a boy. Her husband died in 1977.
The idea for the card group came on a New Year's Eve, when she and the ladies who would become the founding members decided they would start playing cards with each other every month.
"There was a time when we played in the evening and had drinks," Ms. Ladd explained. "Then we decided we'd better play in the afternoon -- without the drinks."
What keeps the group together? "Friendship," they all agreed, not a love of cards.
"It's all friendship," Ms. Ladd said.
And the ladies have broadened their gaming activities, she noted. "When we get done with pinochle, we play dominoes."
Guidelines: Please keep your comments smart and civil. Don't attack other readers personally, and keep your language decent. Comments that violate these standards, or our privacy statement or visitor's agreement, are subject to being removed and commenters are subject to being banned. To post comments, you must be a registered user on toledoblade.com. To find out more, please visit the FAQ.