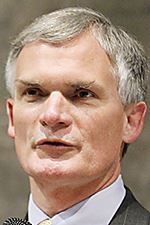 Latta.
THE BLADE
Enlarge | Buy This Image
BOWLING GREEN — U.S. Rep. Bob Latta said Friday that something needs to be done to fix the disconnect between Washington's regulatory agencies and the businesses that must follow their rules.
"I've never been to anyplace where anybody's ever said to me we shouldn't have regulations. But we want regulations that people can comply with and work with," Mr. Latta said.
The Republican Congressman joined representatives from the National Federation of Independent Businesses and several northwestern Ohio business owners at Milligan Workshops Inc., a Bowling Green company that does contract manufacturing and packaging services.
Mr. Latta said regulation — or over-regulation as many business owners see it — is the concern most often raised when he visits with business people in his district.
Sandy Milligan, the owner of Milligan Workshops, said the growth of her company has been held back because of her concerns about running up against regulations from the Environmental Protection Agency or the Occupational Safety and Health Administration.
"I've avoided taking on projects that involve painting, and solvents, and coating of rubber because it's so scary to me," Ms. Milligan said, adding that many companies that deal in those areas have full-time compliance officers.
She, as does Mr. Latta, wants regulators to consider how rules will affect businesses before they establish them. Milligan Workshops employs about 30 people with annual sales of about $1 million.
Mr. Latta also recounted a story about a 10-employee plant that was forced to hire a compliance officer instead of more production workers as an example of how regulations are hurting productivity.
The event was organized by the National Federation of Independent Businesses, which is leaning on Washington to ease what it says are 700 pending new regulations that could affect small business owners.
The NFIB found last year that more than half of small business owners and manufacturers said they would not start a business today given what they know about the current state of regulation and government affairs.
Dave Boothe, president of Allstates Refractory Contractors LLC in Waterville, echoed the others' concerns that federal regulators don't understand business or care how rules can affect businesses. He also feels regulators are more likely to listen to environmental groups, such as the Sierra Club, than small business owners.
"There is a driving force here, and it's not the industry," he said.
Meanwhile, Mr. Boothe said business is often treated as the enemy. He believes it might be beneficial for businesses, regulators, and environmental groups to all be at the table at the same time as new rules are mulled.
Asked after the program what he can do as a congressman, Mr. Latta said it's important to grill various department and agency heads about proposed rules.
"It's really questioning the regulators if they know the impact of what they're doing," he said.
Mr. Latta also supports the so-called REINs act, which would require that Congress approve any new, major federal regulations.
The act has twice passed the House with mostly Republican votes. The Senate has so far refused to take it up. Critics say the bill would put politics ahead of good science in making regulatory decisions.
Asked if there was one specific regulation that Mr. Latta or his constituents see as particularly egregious or difficult with which to comply, the congressman broadly said the Environmental Protection Agency is the worst.
He didn't give a specific example, but said the agency is constantly seeking stricter compliance.
Contact Tyrel Linkhorn at tlinkhorn@theblade.com or 419-724-6134.
Guidelines: Please keep your comments smart and civil. Don't attack other readers personally, and keep your language decent. Comments that violate these standards, or our privacy statement or visitor's agreement, are subject to being removed and commenters are subject to being banned. To post comments, you must be a registered user on toledoblade.com. To find out more, please visit the FAQ.